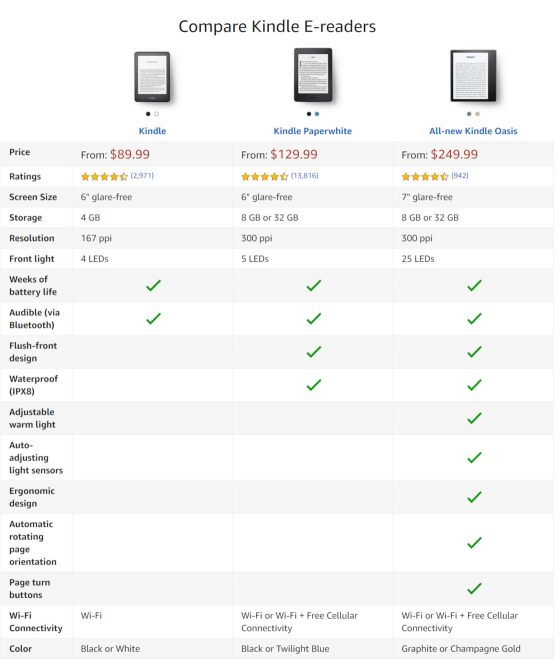 For those new to Kindles that are trying to decide which model to get, here's a quick comparison review with all you need to know about the current lineup of different Kindle models.
Above is a picture of the Kindle comparison table from Amazon (click to view a larger image). There's also this different Kindle comparison table here on this website.
Currently there are three different Kindle models, the entry-level Kindle for $89, the Kindle Paperwhite for $129, and the Kindle Oasis for $249.
There's also a forth sub-model, the Kids Kindle, which sells for $109.
It's actually the exact same device as the entry-level Kindle. The only difference is the Kids Kindle comes with a cover, an upgraded 2-year warranty, and a 1-year subscription to FreeTime Unlimited for access to a library of kid-friendly content. It also has kid-centric screensavers instead of lockscreen ads.
For the most part they all have the same software features. The only difference is the Paperwhite and Oasis have the option to use inverted mode for white text on a black background, and the Oasis adds an option to use a large text mode for certain interface elements.
The Kindle Paperwhite and Kindle Oasis are both waterproof and both have flush front screens, but the Oasis has a larger 7-inch screen and the device has more of a premium feel with the glass screen and aluminum back. It also adds page buttons and it has the nicest frontlight of the bunch, and it's the only Kindle with the option to adjust the frontlight tone to a warm color.
See this Kindle Oasis vs Kindle Paperwhite comparison review for a more detailed comparison of the two.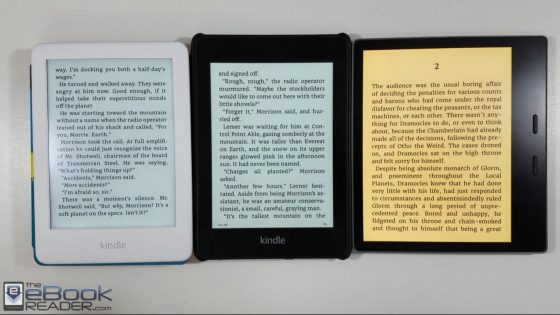 The Kindle Paperwhite and entry-level Kindle both have 6-inch screens, but the entry-level model has a lower resolution screen (167 ppi vs 300 ppi) so text and images aren't quite as crisp and clear. The frontlight is a bit nicer on the Paperwhite as well, but overall there's not a big difference.
See this 2019 Kindle vs Kindle Paperwhite comparison review for more details.
As far as storage space, the entry-level model has 4GB and the Paperwhite and Oasis both have 8GB with the option for 32GB, and both have the option to add cellular wireless as well.
The entry-level model is available in black or white. The Paperwhite comes in black or blue. And the Oasis comes in silver or gold.
Here are the links to the main reviews for each Kindle model with more information and video walkthroughs:
Kids Kindle Review
Kindle Review
Kindle Paperwhite Review
Kindle Oasis Review
Below is a quick video outlining the main differences between the current lineup of Kindles.
Kindle Lineup Comparison