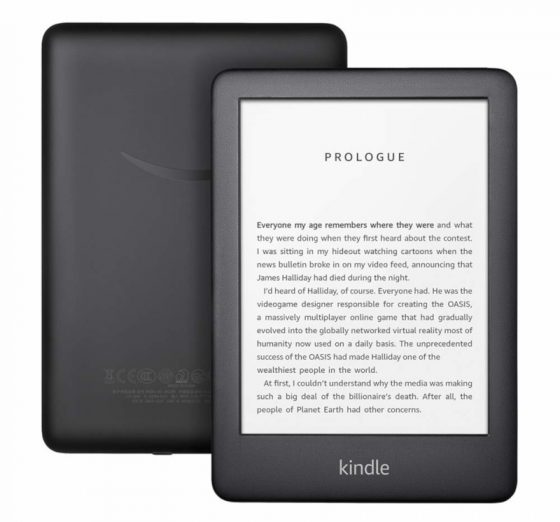 Review Date: April 2019 – Review units purchased from Amazon
Overview
The new Kindle was released on April 10th, 2019. Amazon classifies it as a 10th generation Kindle model, along with the Kindle Paperwhite 4 that was released in November 2018.
The main change with this new 2019 Kindle is the addition of a frontlight, making it the first entry-level Kindle with a built-in light.
Aside from the frontlight, the new Kindle is mostly the same as the previous entry-level model, but with an updated design and a capacitive touchscreen instead of infrared.
Like the previous version it has 4GB of storage space, with WiFi and Bluetooth for audiobooks from Audible.
With the addition of a light, the retail price is $10 higher than the previous model, so it's $89 for the Special Offers version and $109 without ads. By comparison the Kindle Paperwhite starts at $129 and the Kindle Oasis starts at $249.
Kindle Quick Review
Pros
The added frontlight improves contrast and makes reading in all lighting conditions possible.
Least expensive Kindle, and it offers 95% the same reading features as the more expensive models.
It has a nice compact design and it's light and comfortable to hold.
Cons
Lower resolution screen than Kindle Paperwhite and Kindle Oasis.
Sometimes the touchscreen doesn't recognize presses.
Subtle brighter strip along the bottom of the screen where the frontlights are located.
Verdict
I had low expectations for the new entry-level Kindle because of the low resolution screen, but I ended up liking it more than I expected. The screen looks much better with the added frontlight compared to previous non-frontlit Kindles—having a frontlight is a big upgrade.
I also like the small size and simple design. It's lightweight and comfortable to hold. The build quality is solid and the textured plastic feels more book-like than glass and metal.
At $89, the new entry-level Kindle is a much better value now with the added frontlight, especially since it offers 95% of the same features as the more expensive models. But for $40 more you can get a Kindle Paperwhite with a waterproof design, a higher resolution screen, more storage space and longer battery life, so it just depends on what's important to you and how much you want to spend.
Kindle Video Review
2019 Kindle vs Kindle Paperwhite Comparison Review »
The Design
Aside from the addition of a frontlight, the 2019 Kindle is largely the same as the previous version that was released in 2016. But they did change the design slightly.
In now has more rounded edges and corners and they trimmed down the overall size to make it fit more comfortably in your hand. And the screen isn't indented as far because they switched from an infrared touchscreen to capacitive.
It has a lightly-textured plastic material for the frame, and the Kindle logo is glossy black on the black model and grey on the white one.
The micro USB port and power button still reside along the bottom edge, along with a charging indicator.
The Screen
The main negative that'll you hear about the new Kindle is the fact that is has a lower resolution screen than almost all other ebook readers on the current market.
Most ebook readers have 300 ppi E Ink screens these days, but this new entry-level Kindle still uses a 167 ppi screen just like the very first Kindle from over ten years ago. The screen tech has improved since then, and they upgraded this model to a Carta screen like other current models so it has better contrast than before, and with the addition of a frontlight the difference isn't as big as you'd expect.
I do wish the text was a bit darker, but I can say the same thing about the Paperwhite and Oasis.
Unless you have eagle vision or prefer reading using the smallest font sizes, 167 ppi is perfectly adequate for reading text-based ebooks. If you want to read things like manga, comics, and PDFs with smaller text and images you're be better off getting something with higher resolution, but you can still read that stuff on this Kindle—things will just appear a bit fuzzier.
When using mid-level font sizes in the 4 and 5 range it's hard to see a big difference when comparing the screen side-by-side with the 300 ppi Kindle Paperwhite. In fact the text appears just a touch bolder on the entry-level Kindle when using the same settings, but text does appear rougher around the edges, whereas it's sharper and clearer on the Paperwhite. Here's a picture comparing the two, with the Paperwhite on the left (click to see a bigger image).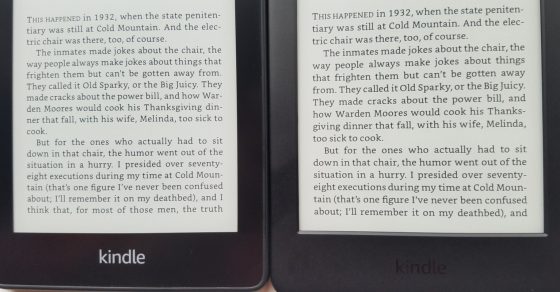 The Frontlight
The best thing about the new Kindle is the addition of a frontlight. It makes a bigger difference than you might expect if you're coming from a non-frontlit ebook reader. Even in a well-lit room it makes the background lighter and helps the text stand out more, and you can always turn the frontlight off if you'd like to read without it.
I got both the black and white Kindles to see how the colors compare. The frontlight gives the white Kindle more of an overall papery look with the white frame, but sometimes the light appears more blue than white.
The frontlight is a little better on the black one. Both have a subtle brighter strip along the bottom where the lights are but it's less noticeable on the black one. It goes to show how frontlights can vary from one to the next.
Overall the frontlights are quite good on both, better than the early Paperwhites, but that new Kindle Paperwhite has a slightly better frontlight without the brighter strip.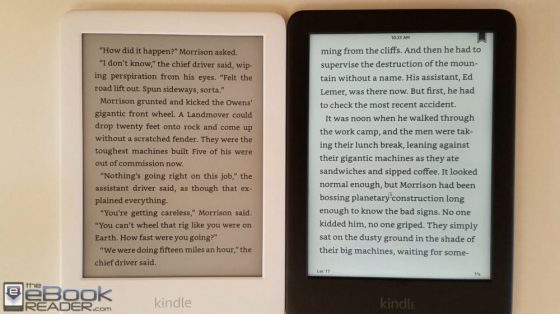 Software Features
All current Kindles, including all the models released in the past 6 years, basically run the same software, so there aren't many changes to this section from earlier Kindle reviews. There are just a couple minor differences between current models.
The main difference with the 2019 Kindle is it doesn't have the option to switch to inverted mode to read with white text on a black background like the Kindle Paperwhite and Kindle Oasis both have. It also lacks the option to disable the touchscreen.
Aside from that, the entry-level Kindle has all the same reading features as the more expensive models.
Amazon tweaked the software a bit with the release of this model by adding new filter options in the library view to help sort content, including the option to sort by read and unread. Those features are available on earlier models now too with the latest software update.
Kindle Reading Features List
Notes and Highlights: While reading, you can hold down on a word or hold and dragging to select multiple words to add highlights. There's also an option to add text notes to highlights using the onscreen keyboard. Annotations can be viewed from the menu and from the clippings file on the Kindle. They can also be viewed and edited online at Amazon, and the clippings file can be exported and edited using 3rd party programs, and you can also export notes via email (only on Amazon's books, though). Additionally, the Kindle has a feature called public highlights that displays the most frequently highlighted passages within ebooks. This can be toggled on and off in settings.
Font Choices: The Kindle has nine different font choices: Bookerly, Baskerville, Caecilia, Caecilia Condensed, Futura, Helvetica, Palatino, Open Dyslexic, and Amazon Ember. Some books have the option to use the publisher's font. You can also sideload custom fonts now too.
Text Adjustment: All Kindles have the same three line spacing and margin settings, with the option to use ragged right alignment or centered. The Kindle has 14 font sizes to choose from with five levels of boldness settings.
Themes: The themes feature lets you save custom templates with different text and layout settings so you can easily switch back and forth between them.
Landscape Mode: The Kindle has the option to switch to landscape mode for ebooks and PDFs from the text adjustment window, but landscape mode doesn't work with any other parts of the interface.
Bookmarks: Tap in the upper right hand corner when reading to add and remove bookmarks. A list pops up that shows other bookmarks in the ebook, and tapping on them opens a second window to view the bookmarked page without leaving the current page.
Dictionary: Holding down on a word opens the dictionary window. From there you can scroll through the definition and select which dictionary to use in the lower right. The Kindle comes with two English dictionaries pre-loaded. More dictionaries can be added from the Kindle Store. Several foreign language dictionaries automatically get added to the cloud after purchasing a Kindle.
Instant Translations: The Kindle has a translation feature that can translate single words or entire sentences into a number of languages without leaving the ebook. It uses Bing Translator so an internet connection is required. Languages include Arabic, Chinese (simplified and traditional), Danish, Dutch, English, Finnish, French, German, Hindi, Italian, Japanese, Korean, Norwegian, Portuguese, Russian, Spanish, Afrikaans, Catalan, Icelandic, Swedish, and Welsh.
Reading Progress Indicator: The Kindle has an estimated reading speed timer that displays in the lower left corner that gives an estimate of how long it will take to finish a chapter or the rest of the book based on your reading speed. Tapping the lower left corner switches from chapter to book to location. It can also be toggled off.
Table of Contents: The Kindle has a Go To function that opens a book's table of contents to easily jump around the different parts of a book. You can also select to jump to the beginning or a specific page or location, and there's a back button to go back to previous locations.
Page Scan: Aside from the TOC window, another way to navigate an ebook is to tap on the top of the screen to open the menu bar and then tap on the tab at the bottom of the page (or just swipe up from the bottom of the screen). This opens a second window where you can use a quick page scan feature to skim through a book. There are also buttons to move forward and back by chapter, along with a page dial to jump around parts of a book quickly. You can also view 9 pages at once to scan around different parts of an ebook.
X-Ray: This feature analyzes the "bones of the book" and shows passages about common themes, characters, historical figures, and specific places or topics in a book. It's especially useful for keeping track of different characters.
Search: The Kindle has an advanced search feature that is always accessible from the menu bar. It uses predictive search so you usually only have to type the first few letters when searching ebooks. You can choose a number of places to search, including this book, my items, all text, Kindle store, Goodreads, dictionary and Wikipedia.
Sharing: You can share passages and messages on Goodreads and Twitter.
Goodreads Integration: The Kindle has the option to connect with your Goodreads account to see what your friends are reading, share highlights, and rate the books you read, etc. You can add books to your "Want to Read" shelf, update reading status, and more.
Language Support: The following languages are available in the settings menu: English (US or UK), German, Spanish, French, Italian, Dutch, Russian, Chinese, Japanese, and Brazilian Portuguese.
Parental Controls: There are parental control settings to restrict access to the Kindle Store, Cloud items, Goodreads, and web browser.
Kindle FreeTime: This lets parents setup profiles for kids where parents can choose specific books for their kids to read. Parents can set reading goals and track progress while kids earn badges and awards for reading. This can be used with books you own as well as books through the subscription-based Kindle FreeTime Unlimited program with kid-friendly books.
About the Author: Within a book you can select to learn more about the author, which loads a page with a description about the author along with a list of their published work.
Whispersync: This keeps your last page read, bookmarks, notes and everything else in sync across multiple Kindle devices and apps.
In-line Footnotes: Opens a second window when tapped instead of leaving the page.
Word Wise: A feature that makes it easier to read more challenging books. Short and simple definitions automatically appear above difficult words. Tap on a word to bring up a simple card with definitions, synonyms, and more. You can adjust the number of hints you see with a slider bar.
Vocabulary Builder: Whenever you lookup a word in the dictionary, it automatically gets added to a vocabulary builder list where you can study the words and definitions along with flashcards. This feature can be turned on and off in settings.
Partial Page Refresh: In the settings menu there's the option to turn on and off partial page refresh. Partial refresh is faster but it can lead to more ghosting and afterimage effects. Full page refresh flashes more but it helps make the text appear sharper and darker.
Web Browser: The Kindle has an "experimental" web browser. It is very basic but it can be used for things like reading news sites, referencing Wikipedia, and downloading DRM-free ebooks. The browser offers an article mode that looks nice. Overall the Kindle's web browser is difficult to use because it loads slow, scrolling is wonky, and it crashes frequently.
Set Passcode: You can set your Kindle to require a passcode when turning it on.
Non-Amazon Content: The Kindle connects to Amazon's ebook store for ebooks and periodicals. You can also borrow library ebooks for the Kindle, get lots of free ebooks, and shop for DRM-free ebooks from various websites too. In addition to Amazon's content, you can sideload your own DRM-free titles, including MOBI, PRC, PDF, TXT, KFX, AZW, and AZW3 formats. You can use the standard USB transfer method or use a Send to Kindle app or email to send it wirelessly to your Kindle and have it added to your Kindle account for syncing and downloading on other devices and apps. If you have DRM-free ePubs all you have to do is change the file extension to .png and Amazon will convert it when using email or the send-to-Kindle app.
Additional Kindle Reviews
2019 Kindle Specs
6″ E Ink Carta display.
800 x 600 pixel resolution (167 ppi).
Frontlight: 4 LEDs with adjustable brightness (light can be turned off).
2-point capacitive touchscreen.
4GB storage space (~3GB useable).
Wi-Fi 802.11 b/g/n.
Bluetooth
Supported formats: Kindle Format 8 (AZW3), AZW, KFX, TXT, PDF, MOBI, PRC; and HTML, DOC, DOCX, JPEG, GIF, PNG, BMP through conversion; Audible AAX audio format.
Weight: 6.1 oz – 174 grams.
Dimensions: 6.3″ x 4.5″ x 0.34″ ( 160 x 113 x 8.7 mm).
Price: $89-$109 Amazon.