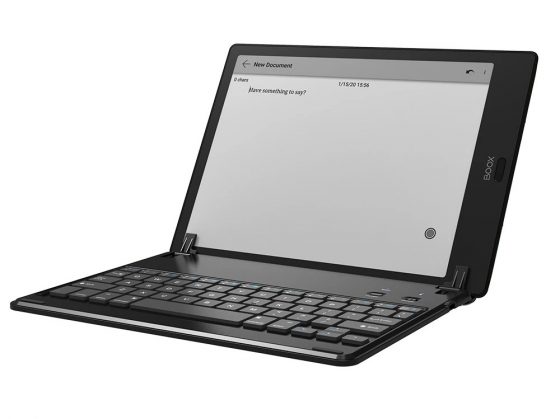 Onyx has released a new Bluetooth keyboard to use with their 10.3-inch Note and 13.3-inch Max devices.
One of the comments at YouTube says it was customized specifically for the Onyx Note2, as shown in the pictures and video, but Onyx's listing says that it's "Perfectly applicable to 10.3 inch and 13.3 inch Boox eink tablets".
The BOOX Bluetooth Keyboard is available from the official Boox Shop for $29.99.
It's not shown on their Amazon store yet but maybe it'll show up there soon too.
Any Bluetooth keyboard with work Onyx's devices, but the nice thing about the Boox keyboard is it has a holder to prop up your device like a laptop or notebook.
It's a typical QWERTY Bluetooth keyboard with a rechargeable battery built-in. Apparently it weighs about 400 grams, according to a YouTube comment.
The video below shows the keyboard in action. Fast forward to 1:05 to see the keyboard shortcuts.
BOOX Bluetooth Keyboard