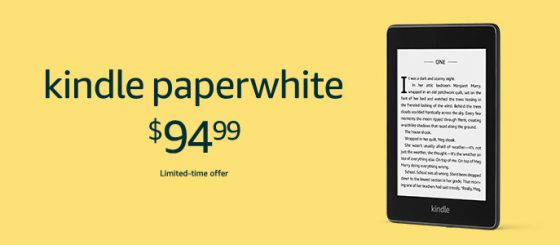 Now is a good time to catch up on some reading. Amazon and Barnes and Noble both have their dedicated reading devices on sale again, and the Onyx Boox Nova Pro is on sale for the first time ever.
The 7.8-inch Nook Glowlight Plus is marked down to $159.99 with free shipping. It's the latest Nook model that B&N released last year. It has a color-adjusting frontlight, page buttons, and it's waterproof.
The Onyx Nova Pro has a 7.8-inch E Ink screen as well, but it also doubles as a notepad and an E Ink tablet. It's not labeled as a "sale" but it's priced at $289 instead of the usual $319.
Amazon has the Kindle and Kindle Paperwhite on sale again too, along with the Kids Kindle.
The regular Kindle is marked down $59.99 and the Kindle Paperwhite starts at $94.99 for the 8GB model with Special Offers (ads).
They also have the option to add 3 months of Kindle Unlimited for free, but note that Amazon will start charging $9.99 per month after the three months unless you cancel.
Amazon also has Fire tablets on sale for Prime members. The Fire HD 10 is down to $99 and the 8-inch model is $49 (I'd avoid the 7″ version).
Additionally, the Kindle Oasis is back in stock again. Some versions are still out of stock until April but the 8GB model is available again. It's not on sale but at least the 4-8 weeks on backorder is over.
For more information about the different Kindle models see this Kindle lineup comparison.
Here's the list of Kindle sales:
Kindle Sales
Kindle – $59.99 ($30 off)
Kindle Paperwhite 4 – $94.99 ($35 off) 8GB model
Kindle Paperwhite 4 – $119.99 ($40 off) 32GB model
Kindle Paperwhite 4 – $209.99 ($40 off) 32GB model with 4G LTE
Kids Kindle – $79.99 ($30 off)
Get 5%-20% off Kindle Unlimited subscriptions