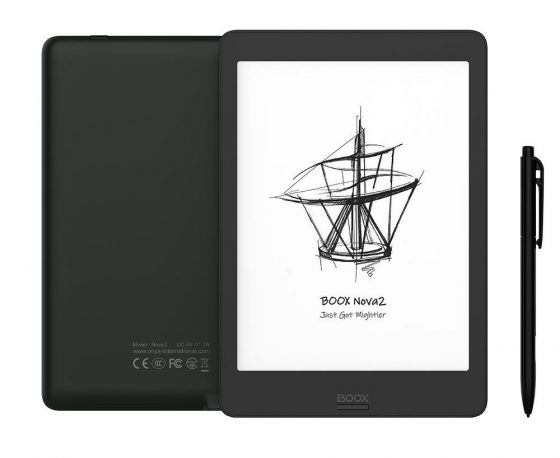 Onyx is getting set to release a second generation model of their 7.8-inch Nova model called the Nova2 that comes with some hardware upgrades and Onyx's latest software based on Android 9.0.
Onyx is going to start accepting pre-orders for the Boox Nova2 on March 26th from their website. The early pre-order deal includes a 7% discount and a bundle package that comes with a case, a screen protector, extra replacement stylus tips and a stylus tether.
The 7% discount is only valid for 1 day; then it drops to 5% until March 31st.
The list price of the Nova2 is $339, which is $20 higher than the Nova Pro, but now they have the Nova Pro marked down to $289 with this new model coming out.
Keep an eye on Onyx's Amazon store if you'd rather order the Nova2 from there. They'll probably have it listed within the next week or two. Update: The Boox Nova2 is now available on Amazon as well with free Prime shipping.
A lot of the features are still the same on the Nova2 as they were on the Nova Pro, but the new model has a faster processor, 3GB of RAM instead of 2, and they added support for dual-band Wi-Fi and OTG, and they also added a microphone, which will come in handy for Onyx's voice typing feature.
The 2.0GHz octa-core processor on the new model doesn't provide a big performance boost over the 1.6GHz quad-core processor on the Nova Pro, but based on my experience with the 10.3-inch Note2 it's a little zippier overall and battery life is improved.
Like the Nova Pro, the Nova2 has a 7.8-inch E Ink screen with 300ppi and a frontlight with adjustable color temperature. It has a capacitive touchscreen and a Wacom touchscreen for adding notes with an included stylus. Bluetooth is onboard as well for connecting headphones/speakers and keyboards.
The Nova2 has a 3150mAh battery, which is slightly larger than the Nova Pro's battery (2800mAh), and it has a USB-C port that supports OTG to connect things like external memory cards, hard drives, and keyboards.
Stay tuned for a full review of the Nova2 sometime in April!
New Onyx Boox Nova2
Onyx Nova2 Unboxing