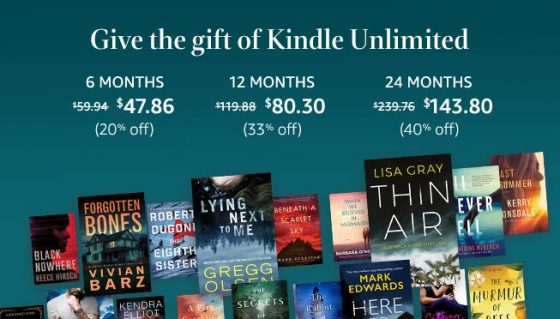 Here's a list of 10 free highly-rated Kindle ebooks for the weekend.
Amazon still has Kindle Unlimited subscriptions on sale for 20-40% off as well, and Kindle ereaders are 20% off when buying two, excluding the Kindle Oasis.
Please note the free Kindle books listed below are free as of April 25th, 2020. Most of these titles are free for a limited time only and will expire in the next few days or hours before going back to the regular list price.
A good place to find more free Kindle books is on the free bestsellers list at Amazon.
You don't need to own a Kindle ebook reader or a Fire tablet to read these free ebooks; you can use free Kindle reading apps for iPad, iPhone, and Android devices, or use a computer or web browser.
Subscribe to The eBook Reader Blog to keep updated on future free ebooks posts, along with ebook reader news, reviews and how to guides.
In addition to the list below, Amazon has a list of 949 Free Kindle eBooks available for a limited time, including a number of ebooks for kids.
Kindle Deals
20-40% off Kindle Unlimited Membership
Get 20% off When Buying 2 Kindles – (excludes Kindle Oasis)
Amazon First Reads – Free Monthly eBook for Prime Members
10 Free Kindle eBooks
Fairest of All: A Tale of the Wicked Queen by Serena Valentino
Fantasy, 4.6 stars, 767 reviews
The tale of the young princess and her evil stepmother, the Wicked Queen, is widely known. Despite a few variations from telling to telling, the story remains the same—the Queen was jealous of the girl's beauty, and this jealousy culminated in the Queen's attempt on the sweet, naive girl's life. Another tale far less often spoken of is the one that explains what caused the Queen to become so contemptuously vile. Still, some have attempted to guess at the reason. Perhaps the Queen's true nature was that of a wicked hag and her beautiful, regal appearance a disguise used to fool the King…
Sound of a Furious Sky by HN Wake
Crime Fiction, 4.5 stars, 94 reviews
Returning from an involuntary leave of absence, the gutsy, tenacious FBI Special Agent Domini Walker catches a no-brainer missing persons case. The young heiress Hettie Van Buren has slipped away on a sexy weekend with a delinquent boyfriend. But things are not as they seem. Not by a long shot. The gruesome discovery of the boyfriend's corpse catapults Dom into action. Has Micah Zapata's Honduran past finally caught up with him? Why did Micah and Hettie conceal their trip? What secrets is the wealthy Van Buren family hiding?
Lunar Discovery: Let the Space Race Begin by Salvador Mercer
Science Fiction, 4.3 stars, 376 reviews
When a Chinese rover discovers an alien technology on the dark side of the moon, it is up to Richard 'Rock' Crandon and his NASA team of scientists and engineers to devise a way to return before the Chinese and Russians. Forced to deal with bureaucratic oversight and a complex team of personalities, Rock Crandon pushes his team to their limits. With pressure mounting, the world is pushed closer to conflict and war as the NASA team finds itself seriously behind in the newly initiated space race…
What Hurts the Most by Willow Rose
Mystery, 4.4 stars, 451 reviews
Am I pretty? Imagine being asked that question standing face to face with a killer. What would you answer? While her life is going from bad to worse, journalist Mary Mills receives a disturbing phone call from her father. Her brother was arrested, charged with murder. Mary decides to go back to her hometown of Cocoa Beach, Florida, which she left twenty years back and has never visited since. Working with her old friends in from High School, she tracks down the most disturbing and surprising killer this town has ever faced before a shocking conclusion turns everything upside down for them…
When He Vanished by T.J. Brearton
Thriller, 4.4 stars, 185 reviews
Jane Gable returns from her shift at the hospital one night to find her two children asleep in bed and her husband gone, his phone and wallet left behind. John has long been a responsible and dependable man, maintaining a predictable schedule. He is a former alcoholic, and so Jane fears he has relapsed and may be in trouble. An 'old friend' of John's, Bruce Barnes, turned up on their doorstep the day before his disappearance. Jane's son Russ had seen a mysterious blonde woman at the house. An SUV keeps showing up. Jane feels watched and under threat…
The Bride's Trail by AA Abbott
Thriller, 4.3 stars, 76 reviews
Amy lives for the weekend. Thanks to her glamorous flatmate, Kat, it's a whirl of glitzy parties. Then the fun stops. Kat's been making money from sham marriages, but the cops accuse Amy instead. Just when Amy needs help to clear her name, Kat has vanished. Meanwhile, Kat's gangster boss wants her blood. A pile of his cash went missing with her. As Amy follows Kat from London to secret tunnels in Birmingham, he's on the trail too. What will happen if he finds Kat first?
The Dream of the Iron Dragon by Robert Kroese
Science Fiction, 4.4 stars, 192 reviews
Trapped 1300 years in the past, they have one mission: survive. In the 23rd century, humanity has been hunted to the verge of extinction by an alien race. When an exploratory ship accidentally travels back in time to Viking age Scandinavia, the human race is given a second chance. Pursued by the power-hungry King Harald, the four surviving crew members join a ragtag band of Vikings as they pillage their way across Europe. It will take all their ingenuity, courage and technical know-how just to survive. But survival is only the beginning. To save humanity, they must somehow return to the stars…
Misadventures of a City Girl by Meredith Wild, Chelle Bliss
Romance, 4.5 stars, 971 reviews
Fresh off a divorce from a Hollywood hotshot, Madison Atwood needs an escape. With the paparazzi fresh on her heels and her love life splashed on every tabloid, she runs away to a swanky retreat in Northern California. Avalon Springs is the mountainside haven she needs to find herself again. Luke Dawson lives off the grid, preferring solitude to society. When he finds a beautiful woman soaking in the hot springs on his property, he can't stop himself from watching her. She captures his attention, but she's just a city girl—a beautiful distraction disturbing the peace he's settled here to find.…
The Cursed Key by
Miranda Brock, Rebecca Hamilton
Fantasy, 4.6 stars, 123 reviews
Another team beat free-spirited archaeologist Olivia Perez to the dig of a lifetime, and now she's left with the choice to wait for scraps or brave a dangerous, dusty tomb in hopes of finding other priceless artifacts. Her reward? A mysterious key she has no idea is cursed. Soon, Olivia realizes she's brought home more than just an ancient rarity. Malevolent visions begin to plague her. Unnerved by what they reveal, she casts away the key…unknowingly placing it into the waiting hands of a dark mage bent on destruction. Only when a shifter agent from the Paranormal Intelligence and Tracking Organization arrives searching for the key does Olivia realize what a huge mistake she's made…
Pete the Cat's Train Trip by James Dean
Children's eBooks, 4.8 stars, 256 reviews
Pete can't wait to visit Grandma, especially because he gets to take a train ride to see her! The conductor gives Pete a tour of the train, and Pete gets to see the engine and honk the horn. Pete even makes new friends and plays games on board. What a cool ride!