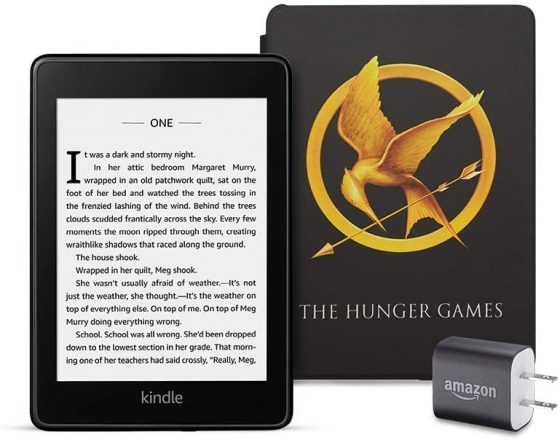 Amazon has added a couple of new bundle options when purchasing the latest generation Kindle Paperwhite.
The Kindle Paperwhite Hunger Games themed bundle package includes a USB power adapter and you can choose a cover with a design from The Hunger Games (original) or The Ballad Of Songbirds And Snakes (prequel).
The bundle deal also comes with 6 months of Kindle Unlimited for free, which includes access to The Hunger Games trilogy.
The bundle package starts at $159.97 for the 8GB Kindle Paperwhite, and it's expected to get released on June 10th. Both the blue and black versions of the Kindle Paperwhite are available, with the option of 8GB or 32GB.
They also offer the covers as separate purchases for $29.99 for those that already own the Kindle Paperwhite 4. They are water-safe polyurethane covers.
According to Amazon, the covers were designed in collaboration with Suzanne Collins, the author of The Hunger Games.
This is the first time that Amazon has put together a special Kindle bundle package for a popular book series. It's surprising they don't do this kind of thing more often.