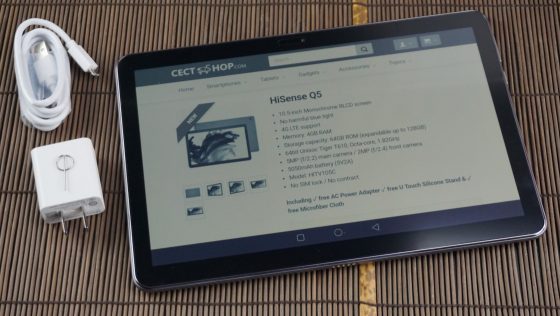 Hisense recently released a new tablet called the Hisense Q5 with a different type of display technology that is meant to be easier on the eyes.
Instead of a typical backlit LCD display, the Hisense Q5 has a reflective LCD display called RLCD. It has no lighting or color so it's somewhat similar to E Ink screens. It reminds me of a few old school ereaders like the Aluratek Libre and jetBooks that had monochrome TFT screens instead of E Ink screens.
The Hisense Q5 is available to purchase from the Cect-Shop but it's a pricey $425 plus shipping.
The Hisense Q5 has a 10.5-inch display with a resolution of 1280 x 800. The storage capacity is 64GB, plus it has a microSD card slot.
It has 4GB of RAM and a 1.82GHz octa-core processor, along with a 5MP rear camera and a 2MP front camera. It also has a micro HDMI port, a headphone jack, 4G LTE support, Bluetooth, a micro USB port, and a 5050mAh battery.
The device runs Android 10 but Google apps are not included.
It's interesting to see a tablet with a different type of screen hit the market. The Hisense Q5's RLCD display is faster and more responsive than E Ink, but I'm not sure there's going to be much interest in a monochrome tablet with no lighting system.
To me the biggest failing is it only has 144 ppi. I gave up on tablets with anything under 224 ppi years ago. I don't know how they can market the device as a reading tablet that is easier on the eyes and then use such a low resolution screen. Having no light is also a big negative, as you can see in the video below. So instead of blue light causing eyestrain, you'll have to strain your eyes to read on a low resolution screen that's dark and hard to read because there's no light.
Hisense Q5 Video Review