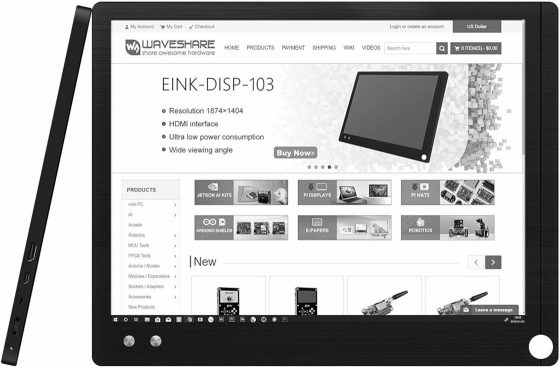 Waveshare has released a new 10.3-inch E Ink monitor that has an HDMI port and supports all versions of Raspberry Pi, along with Jetson Nano and Windows PCs.
They're selling it from the Waveshare website for $539.99 plus shipping. It's also available on Amazon for $626 with free shipping.
Waveshare sells a number of E Ink products, mostly panels for Raspberry Pi devices, it seems.
For example, you can buy a 10.3-inch panel with an embedded controller for $234 from Waveshare's Amazon store.
This new E Ink monitor, part number EINK-DISP-103, adds some additional parts to the hardware.
It has an aluminum alloy enclosure, a mini HDMI port, a 5V power supply, and it has buttons for contrast adjustment, screen refresh, and mode switch to toggle different refresh settings.
The 10.3-inch E Ink screen has a resolution of 1872 x 1404 (that's 226 ppi). It doesn't have a touchscreen or a frontlight.
This new Waveshare monitor is more basic but it's a lot cheaper than other E Ink monitors like the Dasung Paperlike and Onyx Max3, but those also have a larger 13.3-inch E Ink screen.
Waveshare 10.3″ E Ink HDMI Monitor