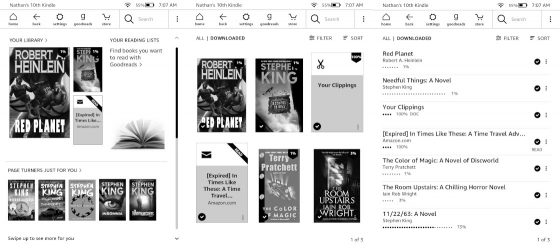 One unique aspect with Kindle ebook readers is the fact that there are three different homescreen views to choose from (shown above), but most Kindle users probably stick with the default option because it's not very obvious there are alternatives.
One thing I've always disliked about Kindles is how everything is buried behind multiple levels of settings menus, and you're never quite sure which section holds the setting you're trying to find.
Just to turn on and off the default homescreen it's literally a 5-step process.
Go to Settings > Device Options > Advanced Options > Home & Library > Home Screen View.
The default scrollable Kindle homescreen shows three recently-read titles, along with your Goodreads Reading Lists—if you don't use Goodreads it's just wasted space. Then below that there's recommended titles, and when you scroll down or use the page buttons on models that have them there's more recommended titles, including Prime and Kindle Unlimited ebook if you have an active subscription, and sometimes, if you're lucky, there will be something different like Reading Stats.
If you continue to scroll down or hit the page forward button, the default homescreen will go to the Library View, where you can view 6 books with covers and use different sorting and filtering options.
If you turn off the Home Screen View setting mentioned above, you can bypass the scrollable homescreen and go directly to the Library View whenever you hit the Home button or back out of a book or menu.
You can also change from a Grid layout (cover view) to a List layout, which will show 6-8 books (depending on the model and if it has Special Offers or not) at once without covers.
Older Kindles used to use list view before cover view came along, and they kept it as an option for those that prefer list view, although most people probably use cover view at this point.
Which of the three layouts is your preferred homescreen setup on your Kindle?