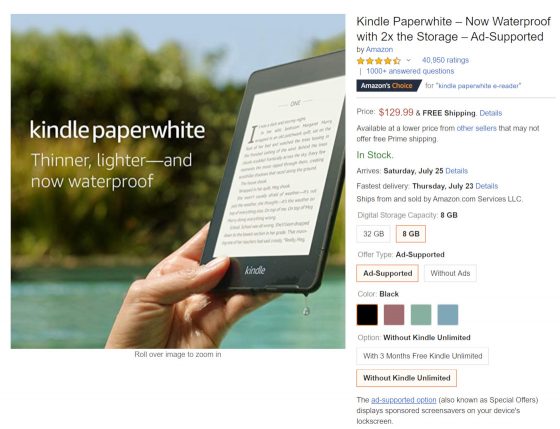 Amazon recently changed how they refer to lockscreen advertisements and banner ads that appear on some Kindle e-readers.
Now Kindles with advertisements are labeled as "Ad-Supported". Amazon calls these ads Special Offers, so Kindles that had them were called Kindles with Special Offers, which was a bit more ambiguous. But now all current Kindles are either Ad-Supported or not—the term Special Offers is no longer being used to describe them.
For example, on the product page for the Kindle Paperwhite the headline now says Kindle Paperwhite – Now Waterproof with 2x the Storage – Ad-Supported.
Then down the page among the various configuration options, you now have the choice between "Ad-Supported" and "Without Ads".
This is something only I would notice and think to question. Surely nobody finds it interesting, but to me it's a clear sign that something is afoot. They aren't going through the trouble to change something that's been the same way for nine years now for no reason.
Why suddenly change the terminology from "Special Offers" to "Ad-Supported"?
The really weird thing is Amazon still uses the term Special Offers when referring to their Fire tablets, and even weirder Amazon's international websites still all say Special Offers for Kindles as well.
I think the term "Ad-Supported" is more upfront and transparent. The term "Special Offers" is more misleading, trying to dress up advertising to make it sound more interesting and exclusive. It's like saying TV shows come with Special Offers now instead of commercials.
I'd like to think the name change has something to do with a potential new upcoming feature that lets Kindle users set book covers on the sleep screen, as there are references to this hidden in the Kindle's software code, as noted by Jhowell at MobileRead. But that's probably just wishful thinking.
Being more transparent with the terminology would make it easier for customers to understand they need a Kindle without ads to set book covers as screensavers, or maybe they're coming up with a way to let people still subscribe to Special Offers without having screensaver ads for those that prefer book covers on the sleep screen instead.
Either way, there has to be a reason for the sudden terminology change. I've been using the term ad-supported to describe Special Offers Kindles for years; it's weird to see Amazon now doing the same.