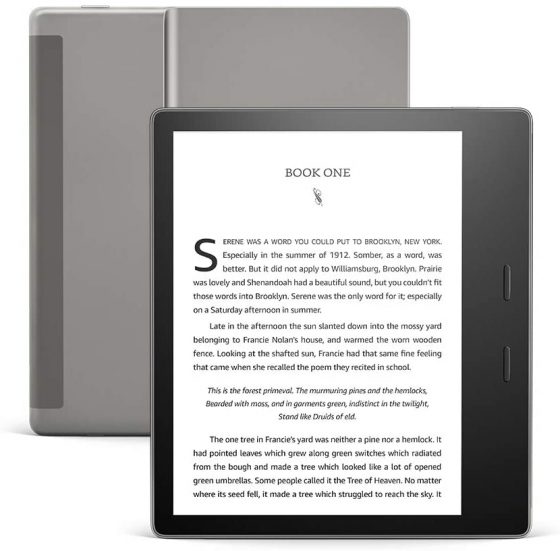 When it comes to dedicated E Ink reading devices like Kindles, the technology evolves at a much slower pace than other electronics. Improvements are minimal between generations, and one thing that hasn't improved at all over the years is battery life.
In fact battery life has gotten noticeably worse over the years on Kindles and ebook readers in general; battery life seems to decrease a little more with each new generation.
Battery life first took a hit when frontlights were introduced. But at least you have control over the light and you can keep it turned off if you prefer.
When testing the battery life on the Kindle Oasis 3, I found the frontlight greatly affects battery life. With 25 LEDs under the frame that shouldn't be a surprise, but the difference is considerable. The battery can last over 4 times longer when not using the frontlight at all.
Battery life took another big hit when higher resolution E Ink screens came out. When Amazon upgraded from the Paperwhite 2 to the Paperwhite 3, with the main change being the screen going from 212 ppi to 300 ppi, their own battery life estimate decreased by 25%. When it comes to E Ink screens, powering more pixels definitely has a big impact on battery life.
Back when Kindles had lower resolution 800 x 600 E Ink screens and no frontlight, battery life was truly phenomenal.
With the addition of frontlights and more pixels battery life has declined noticeably over the years. Batteries have gotten smaller too, like with the Kindle Oasis, and that's certainly not helping matters any. One of the biggest complaints about the Oasis is the battery life.
Kindles still have longer battery life than tablets and phones thanks to their low-power E Ink screens, but battery life still continues to trend downwards instead of improving.
So the questions is, are you satisfied with your Kindle's battery life?
On a related note, here are some tips on how to extend your Kindle's battery life.