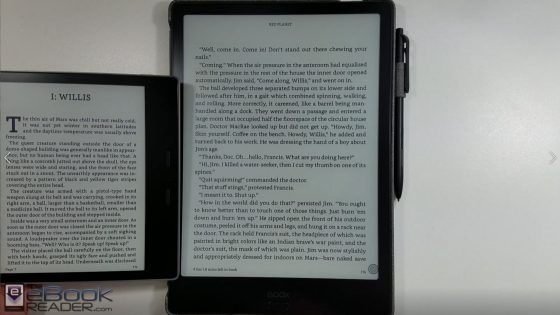 Of all the nonsensical things associated with the dedicated ebook reader market, the thing that makes the least bit of sense to me is Amazon's persistent refusal to release a Kindle with a larger screen.
There are a number of e-readers with E Ink screens larger than 7-inches— in fact pretty much every company that makes ebook readers offers models with larger screens. Even Barnes and Noble has a 7.8-inch Nook available, and Kobo has the 8-inch Kobo Forma, and yet Amazon still won't release a Kindle with a screen larger than 7-inches.
Instead they just keep releasing the same 6-inch Kindles over and over again. They make a couple of minor changes and then call them "All New".
Amazon offers a 10-inch Fire tablet that is quite popular, so why not a 10-inch Kindle?
A long time ago there was the 9.7-inch Kindle DX that was essentially a Kindle 3 with a larger screen. But Amazon abandoned the Kindle DX in 2014 and never released a replacement.
As someone who has access to a multitude of different E Ink ebook readers across different brands, I've always liked ereaders with larger screens, especially the 10.3-inch size, so why does Amazon insist on people using only 6 and 7-inch Kindles? Small devices are great for portability, but who does all their reading on-the-go? A larger screen is great for reading at home or in a business or school setting.
If you want an E Ink Kindle with a large screen, there is one viable option: get an Onyx Boox.
Onyx's devices run Android and can install the Kindle Android app. The app works surprisingly well on their current line of ereaders that run Android 9.0, and even their earlier models with Android 6.0.
Third-party apps like Kindle didn't use to work very well on Onyx's older Android 4 devices (and most other Android-powered ereaders). It was slow and laggy and page refreshes weren't very good. But now with the newer software the Kindle app works great. Onyx offers some settings to optimized the appearance and refresh rate of 3rd-party apps, which helps make an app designed for an LCD screen work well on an E Ink screen.
It's gotten to the point where the Kindle app works well enough on Onyx's ereaders to consider them viable Kindle alternatives.
Onyx's hardware is also light-years ahead of Kindles. Their current models have octa-core processors and support audio, Bluetooth keyboards, USB OTG, dual-band WiFi, some models have fingerprint sensors, Wacom touchscreens, and their largest 13.3-inch model, the Onyx Max3, has an HDMI port to use the device as an E Ink monitor.
Amazon's refusal to release a 10-inch Kindle is baffling, but there is a way to get a 10-inch Kindle thanks to the Onyx Note2.
Kindle App on 10.3″ Onyx Note2