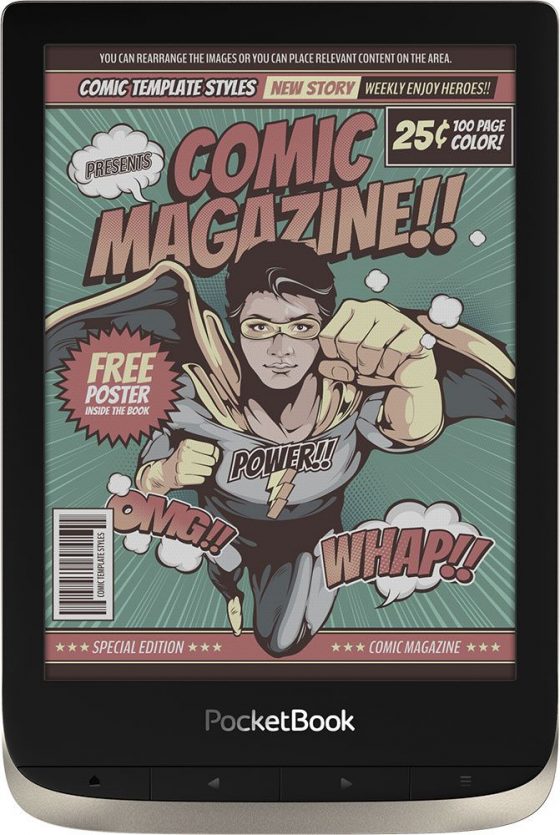 Earlier this week PocketBook officially announced the release of their new PocketBook Color ebook reader, along with a new mid-level model called the PocketBook Touch Lux 5.
The PocketBook Color is a 6-inch device with E Ink's new Kaleido screen technology that can display 4096 colors. Black and white content has a resolution of 300 ppi and color content is lower resolution at 100 ppi.
The PocketBook Color is the first color ereader outside of China available with E Ink's new color screen technology.
It's available to order from a few retailers in Europe, including the PocketBook German store for €199.00.
So far it has yet to appear on PocketBook's Newegg store, but hopefully they'll add it soon since that's their only distribution channel in the US.
I still find it a bit odd that E Ink's new color screens are only available in the 6-inch size when most color content is better suited for a larger screen, but maybe if enough people are interested in it they'll start producing larger screens. PocketBook released an 8-inch ereader with a Color Screen back in 2013 using E Ink's older color screen technology and nobody wanted it. Maybe things will be different this time around.
Here's a list of the specs for the PocketBook Color:
6-inch E Ink Kaleido screen with 1072 x 1448 resolution (300 ppi grayscale; 100 ppi color) and 4096 colors.
Frontlight with adjustable color temperature.
Touchscreen.
Dual-core 1GHz processor.
16GB of storage.
1GB of RAM.
MicroSD card slot for cards up to 32GB.
MicroUSB port.
Wi-Fi 802.11 b/g/n.
Bluetooth.
Accelerometer.
Linux-based OS.
Battery: 1900mAh.
Weight: 160 grams.
Dimensions: 161.3 x 108 x 8mm.
Formats supported: ACSM, CBR, CBZ, CHM, DJVU, DOC, DOCX, EPUB, EPUB (DRM), FB2, FB2.ZIP, HTM, HTML, MOBI, PDF, PDF (DRM), PRC, RTF, TXT, JPEG, BMP, PNG, TIFF, MP3, OGG, M4A, M4B, OGG, OGG.ZIP, MP3, MP3.ZIP.
Here's Pocketbook's promotional video:
PocketBook Color Release Video