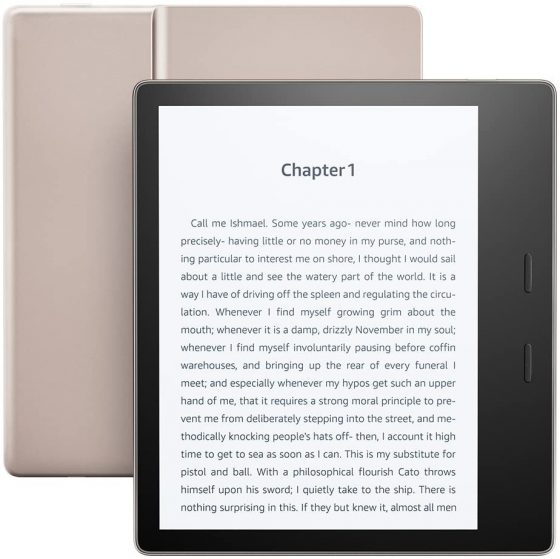 Amazon currently has a few deals on certified refurbished Kindles that can save you some cash if you're looking to get a Kindle e-reader.
Update: Woot has the Kindle Oasis 2 for $129 and the Kindle Paperwhite 3 for $59. The deals are valid 8/30 only.
Amazon has the 8GB Kindle Oasis 2 marked down to $169 with free shipping, but there's only a few left so that deal probably won't last much longer.
They also have the 32GB version of the Kindle Oasis 2 available for $199 in both gold and silver, and the model with free cellular connectivity is $239.
The Kindle Oasis 2 lacks the warm frontlight that comes on the newer Kindle Oasis 3, but aside from that the two models are virtually identical, and for only $40 more than the Kindle Paperwhite it's definitely worth considering.
Amazon also has the Kindle Oasis 3 available at a discount when buying refurbished. The 32GB version is selling for $239, which is $60 off the price of a new one. Unfortunately the cheaper 8GB version is sold out.
The current entry-level Kindle with a frontlight is available refurbished as well. It's selling for $59.99 with free shipping. That's $30 off the price of a new one. Both the white and black versions are in stock, with or without 3 months of Kindle Unlimited for free.
They have the Kindle Paperwhite 3 for $79 refurbished, which isn't bad, but it was only $65 last week. The current Kindle Paperwhite 4 is available refurbished as well, but at $109 it's only $20 less than a new one so it's not as good as the other deals. There's also the Hunger Games Bundle for $139.
Amazon's refurbished Kindles come with the same 1-year warranty as new Kindles, and most people report they are in like-new condition, so they're worth considering if you want to save some money.