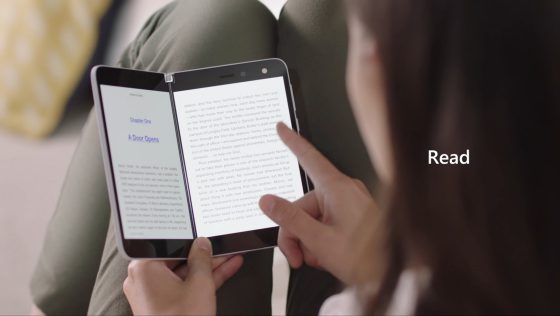 Microsoft is releasing a new Android smartphone on September 10th called the Surface Duo that has two 5.6-inch OLED screens with a hinge in the center to fold the two screens together.
One particular detail might catch the eye of some of those that read Kindle ebooks.
It turns out the Kindle Android app has been optimized for Microsoft's new dual-screen phone to display two pages at once side-by-side just like an old school paper book.
In fact they show the Kindle app at the 1:34 mark for about one second in Microsoft's official announcement video for the Surface Duo (embedded below).
I'm not sure how useful the feature is considering you can only read one page at a time, but it's interesting to seeing a phone with a foldable screen that offers a book-like reading experience with a digital screen, and OLED screens are really nice.
E Ink has demoed foldable screens in the past as well, but nothing that has turned into an actual product yet.
The Surface Duo sells for $1399, $1299 at Best Buy with activation. Either way you look at it that's one expensive phone, but it's cool to see the foldable aspect tying in with books.
What do you think of having a foldable device for reading ebooks? Does having 2 pages in view at once really matter? Or does it help make reading ebooks feel more like reading a real book?
The New Surface Duo