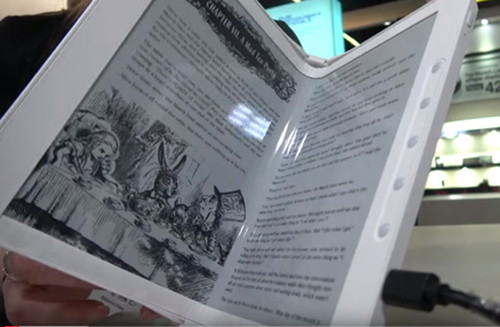 Charbax is back again with another video showing off E Ink's latest prototypes from the recent SID Display Week convention in Los Angeles.
This time around E Ink is showing off an ereader with a foldable 10.2-inch screen. The flexible display allows the device to be folded in a book-like manner, making a large ereader more portable.
The plastic-based screens have 220 ppi and are based on E Ink Mobius technology.
E Ink says they're ready to start mass producing the foldable screens once some buyers emerge.
The video goes on to show a number other E Ink products, along with a 10.7-inch flexible display from Plastic Logic for some reason, a product that's been in development for like 20 years now but never seems to make it onto the market.
They also show off an E Ink dress, a 42-inch sign, smart cards and smart watches, but the foldable screen is by far the most interesting new development.
It's been a long time since E Ink has demoed any innovative ereader-related products. It seems that most of their focus lately is geared toward finding new markets for E Ink. I'm not sure how popular E Ink dresses will be in the future but you never know…
E Ink's Booth, SID Display Week