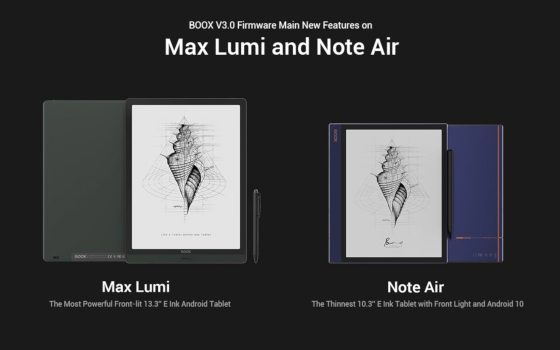 With the release of the new Boox Max Lumi and Boox Note Air, Onyx has updated their software to version 3.0 to include a number of new features.
The new 3.0 software comes installed on the Max Lumi and Note Air, and Onyx says the 3.0 software will be available for some of their older models as well, but they don't give any details on that or a timeline. There's just this line on their 3.0 firmware page: "For other Boox models, we will release their V3.0 firmware changelogs as soon as they're ready."
That's an odd way to phrase it, like they expect the changes to be different for other models, so we'll have to wait and see what that means.
I don't expect any of the older models to get the Android 10 update considering Onyx never updated last-years models to Android 9 like they said they would, but some of the 3.0 features will likely get added to older models at some point.
The 3.0 firmware adds several new useful features, including support for screencast to mirror the display on a Windows 10 computer. Even better than that is the ability to use split-screen to view two apps at once, so you could have the Notes app open next to an ebook app, for instance. This even works with 3rd party apps, although Onyx says that app optimization settings are disabled when using split-screen and screencast, which is a bit of a downer.
Onyx also added a new NewBrowser app, a web browser that's optimized for E Ink with full screen mode and adjustable font sizes.
They added some new features to the Note app as well, with the addition of layers and two new writing tools, a pencil and marker.
Here's the full list of changes with the 3.0 firmware. Keep in mind this list is specifically for the new Max Lumi and Note Air; other models may have a slightly different set of new features when Onyx releases the 3.0 update for older models:
System
Support screencast ( It only supports to mirror screens to Win10 computers. Mac PCs are not supported currently)
Split-Screen supports third-party Apps (Apps optimization and screencast are disabled under Split-Screen )
Add grouping Apps ( this supports bulk management)
The screensaver supports to rotate to horizontal orientation
Push pictures for Screensaver directly via push.boox.com
Add Clock Screensaver
Add Onyx Subscription
The Navigation Ball supports resident buttons which offer quick access to different functions
Add Gallery, which supports picture editing. ( The picture is still opened by NeoReader by default. Please open images with Gallery if you need to edit them)
Add keeping Wi-Fi/Bluetooth/Audio active during sleep mode. (This is off by default. Go to System Settings / Power Management to enable it)
Add NeoBrowser
Optimize the second-screen interface (only 13.3″ supports this function)
Support Gestures
NeoReader
Optimize the look-up interface of Dictionary
Support to select and look up English phrases
Support zooming under PDF scrolling mode
Optimize PDF sharpening effect
Optimize the layout of highlights and annotations when they are exported to the third-party note-taking Apps.
Change the upper right corner to quickly add bookmarks using the stylus (this area does not support to turn pages using stylus any more)
Optimize the main menu interfaces
Support third-party dictionary Apps
Notes
Add list mode
Add layers (template layer + 5 custom layers ) .
Add Pencil and marker ( The pencil color is only in black)
Add copy and paste among different notepads (Go to Notes thumbnail view, select and copy to )
Add switch to another notepad within a Notepad (Tap Notepad name and expand the list, then select the notepad you want to switch to)
Optimize the stroke eraser. (The template is no longer covered. The erased content will no longer be displayed after the selection area of lasso tool is moved)
Onyx Cloud Notes Sync supports background sync
Add Toolbar indicator to full-screen mode of the Notes
Add exit alert ( It is off by default. Go to Notes Settings to enable it. This is to avoid exiting the Notepad by accidental touch).
Add color stroke display effect switch (original color shows non-black on BOOX)
Video: Boox V3.0 Firmware Features