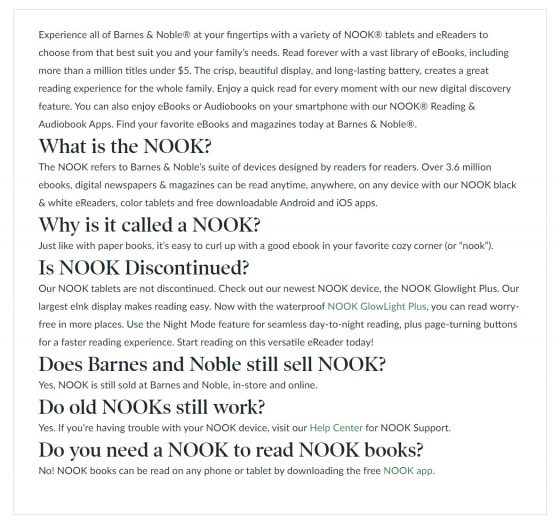 It might surprise some people to hear that Barnes and Noble still sells ebooks.
Barnes and Noble stopped selling Nook tablets and Nook-branded Samsung tablets a while ago, but they still sell Nook e-readers and Nook ebooks.
The problem with Nooks is they developed a bad reputation after years of missteps from B&N.
You know things are bad when B&N has to have a FAQ on their main Nook page (pictured above) that says they still sell Nooks and assure customers that Nooks have not been discontinued (in typical B&N fashion they botched the explanation by saying they haven't discontinued Nook "tablets" when in fact they have).
B&N lost a lot of their ebook customers years ago after they removed the ability to download purchased ebooks to anything other than a Nook device or Nook app. Now it's virtually impossible to free purchased Nook books from B&N's grasp.
Barnes and Noble would be much better off selling ePub ebooks with regular Adobe DRM like Kobo and Google and most other ebook stores. Then people could download their purchased ebooks and read them on whatever device or app they choose.
People might actually go back to buying ebooks from B&N if they allowed downloading them in ePub format to read on devices outside the Nook ecosystem. Some people don't like Nooks or the Nook app, so why force them to use something they don't like? Some people simply don't like the idea of not being able to download backups of their purchased ebooks in case B&N goes out of business in the future, or if they decide to suddenly discontinue one of their Nook apps again without warning like they've done in the past.
The walled garden approach works for Apple and Amazon, but it doesn't work with smaller poorly-run companies like Barnes and Noble. Hopefully at some point B&N's new ownership will realize that. If they switched to selling ePub ebooks with standard DRM they might be able to slowly regain some trust with customers. They need to do something to show that things have changed for the better, more than just putting up a note saying Nooks haven't been discontinued.