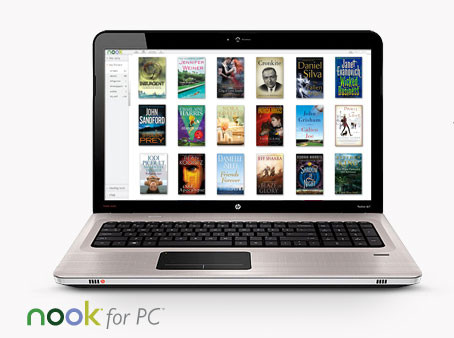 It looks like B&N is intent on ticking off what little Nook customers they have left.
Lots of reports are coming out online, and in Barnes and Noble's own Nook support forum, about how B&N has removed the option to download Nook ebooks to a computer for backup from their website.
Many people are reacting negatively to this, but the truth is there are still several ways to download Nook ebooks to create backups, move books between devices, or remove the DRM, if you so choose. You just can't download Nook ebooks from a web browser anymore. And with B&N set to break Nook off into an entirely separate company, we can expect to see lots of additional changes in the coming months.
Like most people, I just figured the removal of the download option for ebooks was another one of B&N's quirks, and that the issue would get worked out in a few days. But that's not the case this time.
Nook Customer Care tweeted this in response to a customer who asked why they couldn't download their purchased ebooks:
@PeggyStyle The ability to sideload NOOK purchased content has been discontinued. We apologize for any inconvenience this may cause.

— NOOK Customer Care (@NOOK_Care) September 18, 2014
Barnes and Noble appears to be making other changes as well. I can't get Nook for Web to work at all this morning; it just gives an error message. Is it another quirk, or something bigger? Perhaps B&N is revamping Nook for Web, as they what to move toward an online reading platform.
Whatever B&N's reasoning is, if you want control of the Nook books that you purchased then you better take action and download them all locally while you still can. Who knows, B&N could start blocking these alternatives at any time, especially considering some have already been killed off by B&N in the past.
How to Download Nook Books
There are several ways to download your purchased Nook ebooks to get them on a Windows or Mac computer for backup, at which point you can load them into Calibre and remove the DRM from them if you choose (no need to use ADE with those directions). You just have to locate the folder where B&N stores your Nook books locally on your particular system (i.e. Documents\My Barnes & Noble eBooks).
Nook for PC – B&N discontinued Nook for PC along time ago, but you can still use it to access your Nook books and download them to a Windows computer.
Nook Study – This is an alternative desktop program that works for downloading Nook books to a Windows or Mac computer.
Greasemonkey Firefox Add-on (no longer works for this) – An add-on for the Firefox web browser that lets you customize the way a web page displays, and with JavaScrpt code you can create a download option for Nook ebooks from the Nook Library.
Nook Apps – You can use Nook Android or iOS apps to download Nook ebooks and then you can transfer them to a computer a number of ways, with Dropbox, a file manager app like ES File Explore, or with iFunbox for iOS.