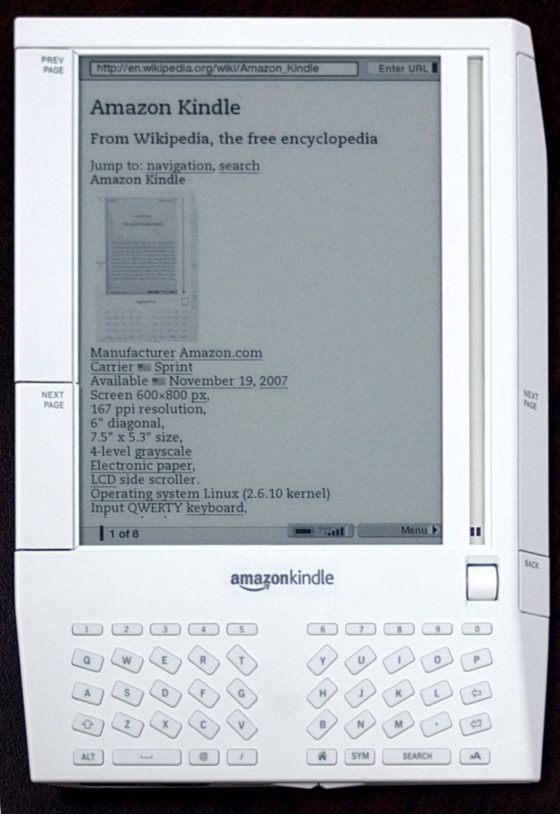 Thirteen years ago today on November 19th, 2007 Amazon released the 1st generation Kindle e-reader.
It sold out in just a few hours and then remained on backorder for several months, but looking back at it now it's hard to believe enough people were interested in buying such an odd-looking device in an ebook niche that was still undeveloped, especially considering the fact the first Kindle sold for $399.
Most people, myself included, have never seen a 1st generation Kindle in person. I'm sure a picture doesn't do it any justice, but even so the picture above from Wikipedia shows just how unusual the design was.
Symmetry clearly wasn't a priority, except with the keyboard and its oddly-angled buttons. It has the largest page buttons you'll ever see. It was the only Kindle to have a scroll wheel and a memory card slot.
Like the current entry-level Kindle, it had a 6-inch E Ink display with a resolution of 800 x 600. That was an older screen screen technology, however, and of course there was no light so contrast wasn't as good as it is now.
The 1st Kindle had EVDO to download ebooks wirelessly, and it was only sold in the United States.
I'm not sure on the other details because Amazon removed access to the product page for the 1st gen Kindle at some point over the past couple years. They set the url to redirect to an old Fire tablet page for some odd reason, even though all their other previous gen Kindle pages still remain viewable. You can even see the listing for the 1st gen Kindle in Amazon's search results but clicking it takes you to an outdated Fire tablet page instead.
The original Kindle was truly one of the most odd-looking gadgets ever released; it's surprising that enough people were interested in it to spur the growth of the Kindle brand to what it is now, and some are still using their 1st generation Kindle to this day.