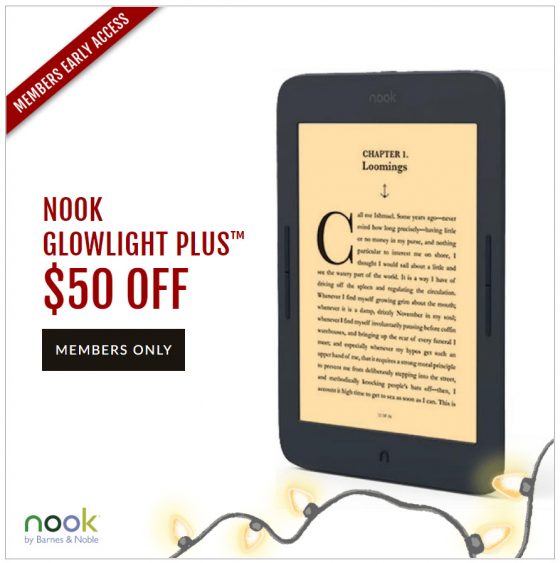 Barnes and Noble has rolled out an early Black Friday Nook deal exclusively for B&N Members.
They're taking $50 off the price of the 7.8-inch Nook Glowlight Plus (members have to be signed in to see the discount during checkout).
$149 is a good price for a waterproof ebook reader with a 7.8-inch E Ink screen that has a frontlight with adjustable color temperature. That's 25% off the regular price of $199.
Check my Nook Glowlight Plus review for more details about B&N's largest Nook ereader.
Barnes and Noble also has select Nook accessories, both for their tablets and ereaders, on sale for 50% off, but that doesn't have anything to do with Black Friday as they've been running that deal for a long time.
From the wording of the promotion it sounds like non-B&N members will be able to get the $50 discount starting Thursday, but with B&N it's hard telling. Their stores will be closed for Thanksgiving day, and their in-store deals begin on Friday.
You can find Barnes and Noble's other sales on their Black Friday Deals page.