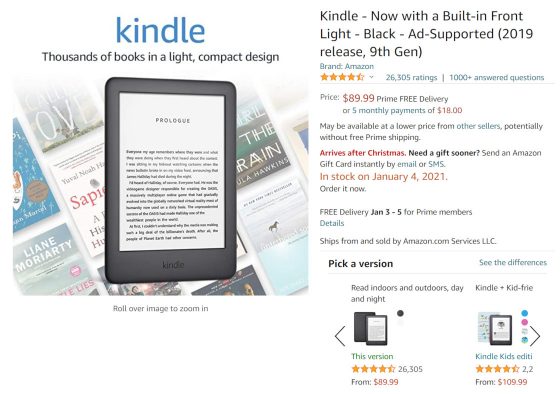 Something weird is going on with the product page of the entry-level Kindle at Amazon. Could Amazon be preparing to release a new version? Or is somebody just asleep at the wheel?
A few days ago Amazon changed the title on the description page for the entry-level Kindle to include this: 2019 release, 9th Gen.
That may not seem odd on the surface but for those paying close attention there's a couple of things out of the ordinary about it.
First off, the 2019 Kindle is a 10th generation Kindle, not a 9th gen Kindle. It says so on Amazon's own Kindle identification page.
So they got the generation wrong, big deal, right? Well, there's more to it than that. The thing is Amazon doesn't specify the generation in the title of current Kindles. They only do that when a Kindle has been replaced with a newer generation model.
All the older Kindle models specify the generation in the title on product pages, but none of the current models do, and that's how they've been doing things for a long time.
There's also the fact that most versions of the entry-level Kindle are sold out for the next 3-8 weeks, and the same goes for the Kids Kindle, which is the same device.
What was the purpose of suddenly adding the release date and (wrong) generation to the title after 20 months?
The entry-level Kindle was released in April 2019. Perhaps Amazon is planning an upgrade in early 2021. They did recently double the storage space on the Kindle but they aren't promoting that fact at all, even though that's one of their main bullet points when marketing the Kindle Paperwhite.
Maybe they're finally going to upgrade the screen resolution. It's hard to believe the entry-level Kindle still has the same screen resolution (167ppi) as the very first Kindle that was released way back in 2007. In fact Amazon is the only company that still uses those low resolution E Ink screens; everyone else moved up to 212ppi and 300ppi screens years ago.