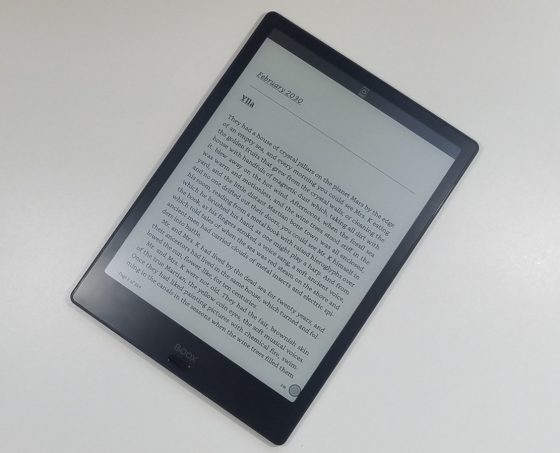 People have different preferences when it comes to what they like to have display on the screen of an E Ink ebook reader when it's turned off and resting in sleep mode.
The term screensaver is often used to describe the image that appears on the screen while a device sleeps. E Ink screens don't need "saving" so the word doesn't really make sense in that application, but others call it a sleep screen or wallpaper.
Whatever you want to call it, E Ink devices are unique in the way that they can display an image or text on the screen without using any battery power.
This gives more options for screensavers, but unfortunately most E Ink ereaders don't take proper advantage of this feature.
Some people prefer to have the book cover of the book they're currently reading appear on the sleep screen when a device is off, like with Kobo's ereaders, but not all devices have that as an option. In fact most don't.
Kindles display annoying ads on the sleep screen, which Amazon calls Special Offers, unless you pay an extra $20 to remove them, and then they'll display random images of pencil tips and block letters and other weird things nobody cares about.
My new favorite screensaver option is one only available on Onyx Boox devices.
Onyx has a screensaver app that lets you choose between different types of screensaver images, and there's a separate setting for shutdown images as well.
You can set custom images, and you can set it up to display a clock, along with a short note and the date if you'd like.
My favorite screensaver is what Onyx calls a transparent screensaver. It is effectively no screensaver because it will display whatever was last shown on the screen. This is helpful for reviewing a page of notes without turning the device on, or you can look over complex images or diagrams without using any battery power. I also just like seeing a page of text for the book I'm currently reading; it helps make me want to get back to reading again, more so than seeing the book cover.
They put a black bar across the top of the screen so you know when it's turned off, but otherwise the screen looks the same as when the device is turned on, minus the frontlight.
I would like to see other ebook readers add the option to use no screensaver as well and just display what was on the screen when you turned it off. It would probably confuse some people at first but they'd figure out how E Ink screens work eventually. Either way E Ink ebook readers should offer more options for screensaver images. After all, the screen is off more than it's on so why not make use of it.