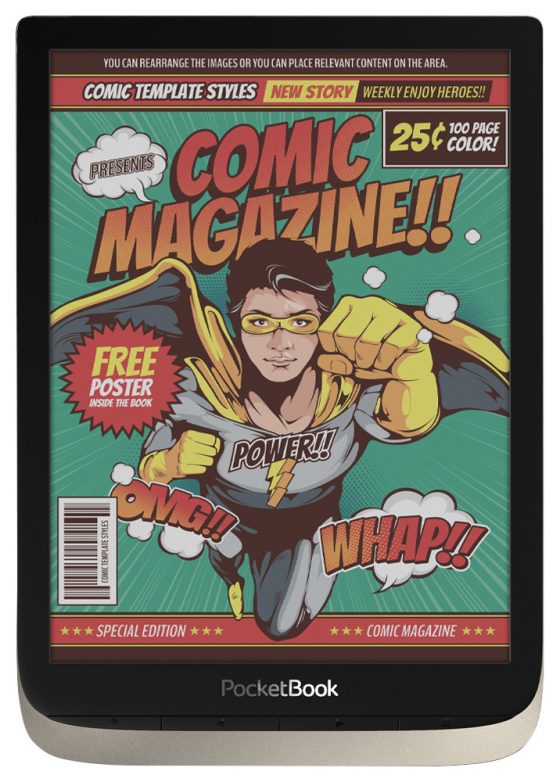 It looks like PocketBook is going to be releasing another new ebook reader with a color E Ink screen soon, one that is better-suited for color content like comics and manga.
The new PocketBook 740 Color is a lot like the original PocketBook Color, except it adds a larger 7.8-inch E Ink Kaleido screen, and they switched to a USB-C port.
The color screen has the same resolution as the 6-inch version, with 300 ppi for text and 100 ppi for colors.
Other specs are mostly the same between the two versions. The PocketBook 740 Color has a dual-core 1GHz CPU with 1GB of RAM and 16GB of built-in storage. It has a microSD card slot, Wi-Fi, Bluetooth, and a frontlight.
PocketBooks support a number of formats, including ePub, PDF, CBR, CBZ, FB2, HTML, MOBI, and others. It also supports audio files and audiobooks.
The PocketBook 740 Color is expected to start shipping this March in Russia and parts of Europe. It'll likely turn up in more locations in the following months. Keep an eye on PocketBook's Newegg store if you want to get one in the US.
Update: The PocketBook InkPad Color is now available to purchase on Amazon for $329 with free shipping.
I'm still not sure if color E Ink is going to take off but the 6-inch PocketBook Color seems to be fairly popular. It's currently the #1 best seller in the ebook reader category at Newegg.
via: MobileRead