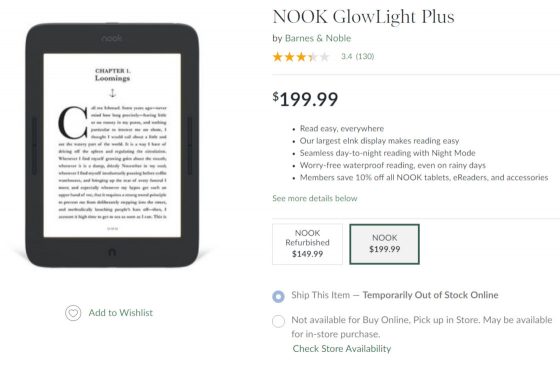 Here's something that's a bit odd. Both the Nook Glowlight 3 and Nook Glowlight Plus aren't available to purchase from Barnes and Noble's website.
Both are listed as "temporarily out of stock online", but the larger Nook Glowlight Plus has been unavailable for at least a couple of weeks now.
In fact Barnes and Noble currently doesn't have any new Nook units available at all. The only thing they are selling is a refurbished Nook tablet and a refurbished Glowlight Plus. Everything else is unavailable.
You can't even order a new Nook online for in-store pickup anymore. It looks like a few are still available to purchase in stores but a number of stores are sold out in my area.
Another weird thing is they don't have the Glowlight Plus shown on the main Nook landing page anymore, just the Glowlight 3 and the 10-inch Nook tablet.
Is this an early sign that B&N is planning to stop selling Nook hardware altogether? Or is it possible that they are getting set to release a round of new devices?
Maybe it's just a temporary stock issue but it's pretty odd to see Barnes and Noble not having a single Nook model available to purchase new online. What's going on?