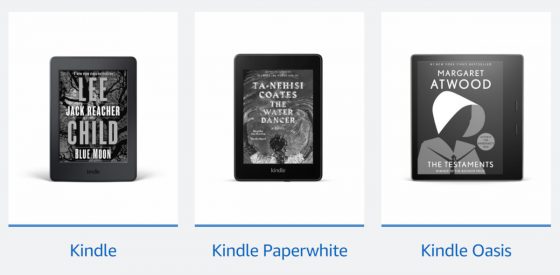 Amazon has now officially started rolling out a new feature for Kindle e-readers that gives users the option to show book covers on the lock screen when the Kindle is turned off and sleeping.
The book cover feature first started to appear on Kindles in India and Mexico last week, and now it looks like it's pretty much available everywhere, although some Kindles will still need some more time for the feature to appear.
The new book cover feature isn't going to be available on early Kindles, but it is available on all Kindle dating back to the Kindle Voyage, which includes the Kindle Paperwhite 3 and 4, all versions of the Kindle Oasis, and the 8th and 10th generation entry-level Kindles. To figure out which model you have see Amazon's Identify Your Kindle page.
Additionally, you must have an ad-free Kindle to get the option to set book covers on the lock screen.
If you have an ad-supported Kindle you can unsubscribe from ads by going to the Manage Your Devices page at Amazon. Just select your Kindle and then click the Remove Offers button in the details section. But be warned, this costs $20.
Another option is to contact Amazon customer support and ask to have the ads removed. They will often remove the ads for free, though not always. They might have different rules now on doing so. Either way it's worth a try if you want to save $20.
How to Turn on Book Cover Images
To enable showing the cover of the book you're currently reading on the lock screen of your Kindle, go to Settings > Device Options > Show Cover.
Amazon says covers of most books, magazines, comics, and manga are supported.
If the option does not appear for you yet, make sure your Kindle's software is updated. The latest software version is 5.13.5, but this feature will reportedly show up with 5.13.4 as well.
If the option still doesn't appear, make sure Wi-Fi is connected so your device can sync. You can also try restarting your Kindle from the Device Options menu. If none of that works just leave your Kindle on for a while and try to be patient; the feature should magically appear at at some point.
Here's the Kindle Book Covers help page at Amazon for more information.