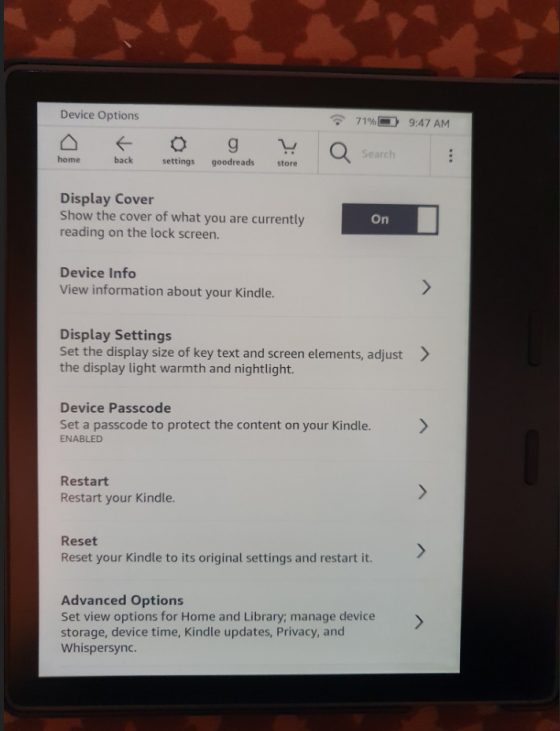 There's an interesting post over on reddit with a few reports of a new Display Cover setting suddenly appearing under Device Options on some people's Kindles.
Update: Amazon has now officially rolled out this new feature. See here: Book Covers Now Available on Kindle Lock Screens.
The setting gives users the option to display book covers on the Kindle's lock screen when the device is turned off and sleeping.
People have been requesting this feature for over a decade now so it's good to see it finally happening.
However, it appears that Amazon has just now started to slowly rollout this new feature, as there are only a few reports of people getting it, and those all seem to be from outside the US so it might take a while for Amazon to activate this feature in different regions, similar to how the dark mode toggle was added last year.
At this point we don't know which Kindles will be getting this feature and which won't.
It also begs the question how is it going to work with Special Offers Kindles that have ads on the lock screen? Will people have to pay Amazon $20 just to show book covers on the lock screen? That seems rather excessive and it will probably make a lot of people angry.
It stands to reason your Kindle needs to have the latest software version installed to get the new feature, so you might want to make sure your Kindle is on the latest version, currently 5.13.5. But early reports suggest it can show up on 5.13.4 as well.
If your Kindle gets the option to show book covers on the lock screen please leave a comment saying which Kindle model you have, what software version it's running, and if you want to share what country you're located in that would help too.
The included picture from reddit shows the new feature on a Kindle Oasis 3. You can click the link to see the book cover too if you want.
via: reddit