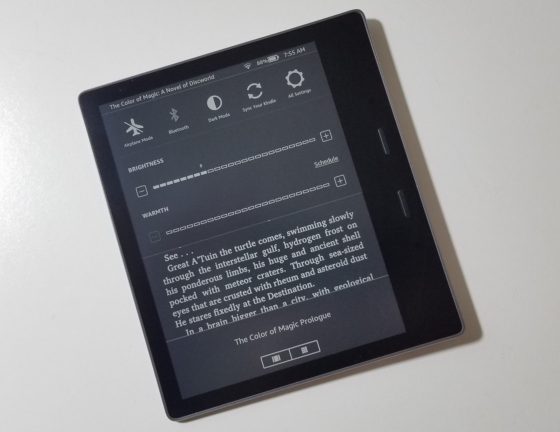 Now that Amazon has started rolling out an update that adds a Dark Mode toggle to the quick settings menu, there's some confusion over which models have it and which models don't.
Dark Mode isn't available on all Kindles and it's not a new feature. It was previously referred to as Inverted Mode, and it still is from the Kindle's accessibility menu found in settings, but most people probably didn't know about the setting because of its out-of-the-way location.
The only change is Amazon added a toggle button to the quick settings menu to easily turn Dark Mode on and off, but the feature still isn't available on models that didn't originally have it.
The only models that support Dark Mode are the latest Kindle Paperwhite 4, which Amazon refers to as the 10th generation Kindle Paperwhite, and the Kindle Oasis 2 and 3, which Amazon calls the 9th and 10th gen Kindle Oasis models.
If you're unsure which Kindle model you own, refer to this Identify Your Kindle eReader page at Amazon.
Some people love Dark Mode. It's a common feature in reading apps on tablets and phones, but it works a bit differently with E Ink screens.
With page refresh turned on (Settings > Reading Options > Page Refresh) the screen will flash white with every page turn, which can be distracting. Dark Mode is smoother with page refresh turned off, but you may see a bit of ghosting of text from previous pages. Not much though. Kindles have been optimized better than other E Ink devices in this regard.
Dark Mode doesn't work with all content. Comics, for instance, aren't inverted. PDFs are inverted but you can't turn off the page refresh setting with PDFs so the page will flash white with every page turn.
The Dark Mode toggle first started appearing on a few devices about a month ago and now it's being widely rolled out.
How to Get Dark Mode Toggle
Again, the feature itself isn't new but the toggle in the quick settings menu is. To get the Dark Mode button to appear on your Kindle Paperwhite 4 or Kindle Oasis 2 or 3 it needs to have the latest software installed.
In fact the latest two software versions will add the button, version 5.12.4 and 5.12.5, but it may take some time for it to show up (it took 2 days to show up on my Oasis after it showed up on my Paperwhite). Just keep WiFi turned on and the Dark Mode button will eventually appear automatically; restarting is not required.