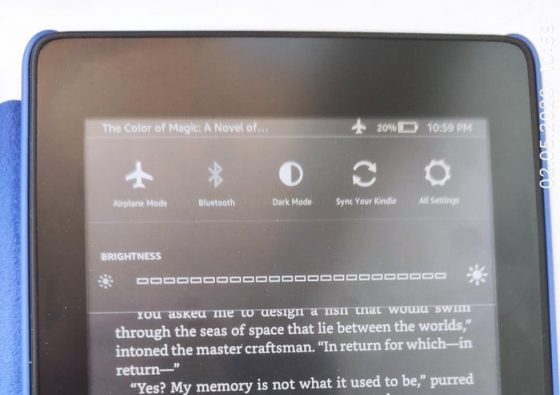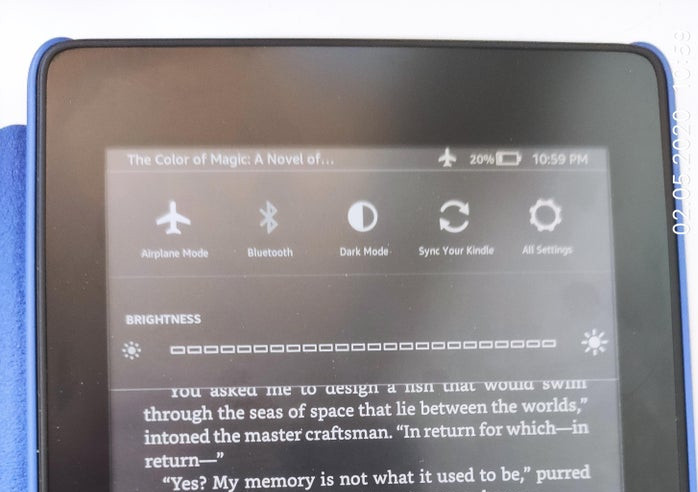 Some folks are reporting an updated quick settings menu appearing on their Kindles that adds a new dark mode button to easily invert the screen colors.
There are a couple of posts on Reddit from users with Kindles that have received the updated quick settings menu (pictured above).
It appears to be one of those new features that Amazon activates remotely.
None of my Kindles are showing the dark mode toggle yet, even with the latest software installed. Apparently the latest 5.12.5 software update isn't required, as some are getting it with the earlier 5.12.4 software.
Only a few Kindle models support the inverted mode feature: the Kindle Paperwhite 4, the Kindle Oasis 2 and Kindle Oasis 3.
It's nice to see the Kindle's dark mode feature finally being more easily accessible.
Amazon considers dark mode an accessibility feature, and I always thought it was odd that the setting wasn't very accessible, having to go hunting in the settings menu, tapping the screen 7 different times just to turn it on and off before getting back to reading.
I never understood why it wasn't available in the main reading settings menu, and why dark mode cannot be applied to themes, but at least now that they're adding it to the quick settings it'll be easier to turn on and off.
Has your Kindle gotten the new updated quick settings menu yet?