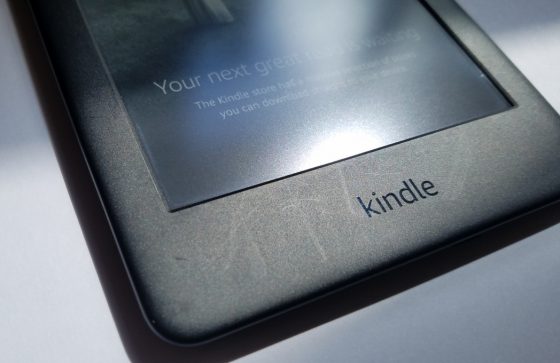 One thing I've noticed about the base Kindle—the 10th gen model with a frontlight that was released in 2019—is the plastic casing material is prone to scuffs and scratches.
In fact you can permanently scratch the plastic just by lightly running a fingernail across it. I never noticed how easily it scratches before, and considering my Kindle has spent the past 2 years in a closet unused (except to occasionally charge the battery), it should be in like new condition. But instead it looks like it's been jostling around in a bag for the past two years, with scratches all over the front and back.
I have both white and black versions of the 10th gen Kindle, and the black one definitely shows more scratches. The white one scratches just as easily, it seems, but the scuffs are harder to see on the white plastic.
Admittedly, I've rarely used Amazon's entry-level Kindles over the years outside of a couple of weeks to review them (I'd rather use a Voyage or Oasis), but I don't remember the older ones scratching so easily.
It's distracting to the eye to have a bunch of scratches reflecting light along the border of an ereader when trying to read a book. I don't like it and I plan to use this scratched Kindle for trade credit whenever Amazon decides to release a new Kindle.
It should be noted that I do not keep the 10th gen Kindle in a case, but it's just sitting on a shelf in a closet anyway. You could likely avoid some scratches by keeping it in a case all the time, but it scratches so easily it'll probably get some scuffs eventually.
It's nice to have an option for an inexpensive Kindle, but if you like keeping your devices looking nice this isn't the model to get. The cheap plastic casing just isn't going to hold up well over time. My Paperwhite 4 and Kindle Oasis 3 are holding up much better. The Oasis looks like new and I use it all the time and it's never once been in a case.