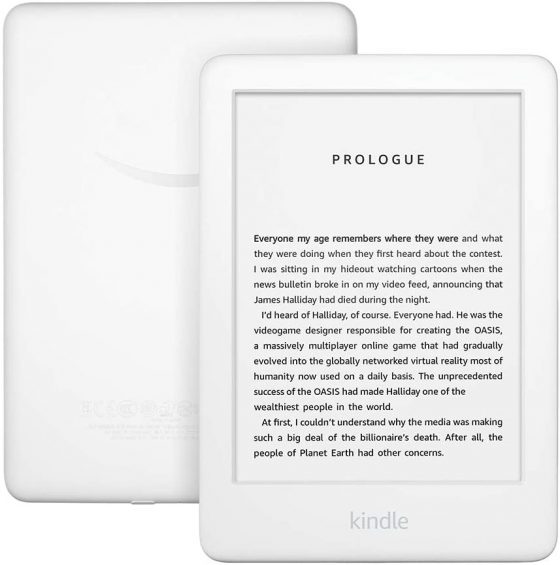 Here's a list of 10 free highly-rated Kindle ebooks for Mother's Day.
Amazon still also has Kindles on sale too but that will probably end later today. They also have a list of Kindle ebooks on sale today only for one of their main deals of the day.
Please note the free Kindle books listed below are free as of May 9th, 2021. Most of these titles are free for a limited time only and will expire in the next few days or hours before going back to the regular list price.
A good place to find more free Kindle books is on the free bestsellers list at Amazon.
You don't need to own a Kindle ebook reader or a Fire tablet to read these free ebooks; you can use free Kindle reading apps for iPad, iPhone, and Android devices, or use a computer or web browser.
Subscribe to The eBook Reader Blog to keep updated on future free ebooks posts, along with ebook reader news, reviews and how to guides.
Kindle Deals
Up to 80% off top Kindle ebooks adapted for the big screen – Deal ends May 9th
Get 20-40% off Kindle Unlimited Gift subscription
Kindle – $64.99 ($25 off)
Kids Kindle – $79.99 ($30 off)
Kindle Paperwhite 8GB – $94.99 ($35 off)
Kindle Paperwhite 32GB – $119.99 ($40 off)
Get Kindle Unlimited Free for 2 Months – New and returning subscribers, terms vary by account
Amazon First Reads – Free eBook for Prime Members
Get 20% off New Kindle with Trade-in
10 Free Kindle eBooks
The Dragon of New Orleans by Genevieve Jack
Paranormal Romance, 4.5 stars, 395 reviews
New Orleans: city of intrigue, supernatural secrets, and one enigmatic dragon. For 300 years, Gabriel Blakemore has survived in New Orleans after a coup in his native realm of Paragon scattered him and his dragon siblings across the globe. Now a jealous suitor's voodoo curse threatens to end his immortal existence. His only hope is to find an antidote, one that may rest in a mortal woman…
Artifacts of Death by Rich Curtin
Mystery, 4.6 stars, 916 reviews
Strange events which took place in 1938 lead to the present-day cold-blooded killing of a ranch hand in the remote canyon country near Moab, Utah. The only clue besides a 9-mm bullet in the victim's head is an ancient-Indian potsherd stuck into his chest. Deputy Sheriff Manny Rivera is assigned the case and judges it's related to a drug deal gone bad. But he's actually up against an intelligent and cunning adversary driven by greed who's discovered a long-forgotten cave containing a collection of rare museum-quality Indian artifacts…
Not You It's Me by Julie Johnson
Romantic Comedy, 4.4 stars, 712 reviews
Gemma Summers is unlucky in love. She's known it since third grade, when her first crush blew a spitball into her hair, and a decade-long string of bad dates, boring sex, and abysmal morning-afters has done nothing to improve her prospects. When a random radio contest lands her courtside tickets to the hottest playoff game of the season, Gemma thinks her luck may finally be on the upswing — at least, until the dreaded jumbotron kiss-cam lands on her and her date, who's too busy ignoring her to notice…
Ruff Justice by Kennedy Ryan
Mystery, 4.7 stars, 86 reviews
When a young caregiver is falsely accused of stealing from her elderly client, Cara Mia Delgatto refuses to stand by with her mouth shut. That famous Italian temper of Cara's is hotter than a bottle rocket. Instead of ignoring the girl's plight, Cara launches her own investigation, even though she has plenty to keep her busy at her store, The Treasure Chest, a shop specializing in upcycling, recycling, and repurposing with a coastal theme…
Sentience by Courtney Hunter
Science Fiction, 4.5 stars, 83 reviews
Running from a violent past, Leo Knox desperately decides to participate in a scientific experiment conducted by the infamous and greedy tech-giant, AlgorithmOS. Soon, Leo learns that she has agreed to take part in a Turing Test, a test that measures the ability of artificial intelligence to blend in among humanity, but what she doesn't know is that the test set to take place is unlike any other of its kind…
The Hunted by A.J. Scudiere
Action & Adventure, 4.4 stars, 217 reviews
Joule and Cage Mazur feel like prisoners in their home. With something new stalking the streets at night, their family's only protection is bolting the door and embracing the darkness. And even though they manage to trap and kill one of the monsters, their locks won't hold forever… Dealing with rising panic and rage in the neighborhood, the free-spirited survivors hatch a plan to undermine the killers. But with the night hunters picking off everyone they can, Joule and Cage know time is ticking toward humanity's extinction…
Summer of the Woods by Steven K. Smith
Children's eBooks, 4.7 stars, 1963 reviews
When young brothers Derek and Sam move with their family to Virginia, they have no idea what adventures the summer will bring. As they explore their creaky old house and the deep surrounding woods, they uncover a sixty-year-old mystery of a valuable coin collection stolen from the local museum. Join the boys as they spend their summer running from danger and searching the woods, secret caves, rushing waters, and hidden passageways for treasure and the rare 1877 Indian Head cent coin!
Lock and Key by Evangeline Anderson
Paranormal Romance, 4.7 stars, 113 reviews
Since I started school at Nocturne Academy, strange happenings have befallen me. The weird key-shaped necklace I found at a flea market chokes me every time I try to take it off. Also, a tall, beautiful, and bitingly sarcastic Nocturne has the lock that matches it. His name is Griffin Darkheart, and—like this freaking necklace—I can't seem to stay away from him, though he's being Censured for mysterious crimes…
No Way Home by Christy Cooper-Burnett
Time Travel, 4.4 stars, 217 reviews
Christine Stewart is a regular woman just doing her job when she gets stranded in history. When she gets up for the day, her plan is simple: go to work, travel back in time to the year 1867 in Oklahoma to deport a cyber-criminal, then head back to her time in 2070 Los Angeles and get ready to go on vacation with her son, Michael. Then the system goes down and she-and dozens of other transporters around the world-are stranded in the past with minimal training and no supplies…
Thorfinn and the Witch's Curse by Jay Veloso Batista
Fantasy, 4.5 stars, 60 reviews
Danelaw life is good! Practicing martial skills, grumbling over chores, listening to scary stories and shadowing his brothers everywhere, Finn is a normal boy of ten in the Viking Kingdoms of ninth century England. A bit timid, his father plots his apprenticeship while the family prepares a grand wedding. Off to the North, his uncle sails home after years of exile. And unbeknownst to all, the ghost of an ancient mage sits sentinel over his clan freehold. But when a witch's curse comes alive, a mishap turns young Finn into a vardoger, haunted by his own forerunner ghost…