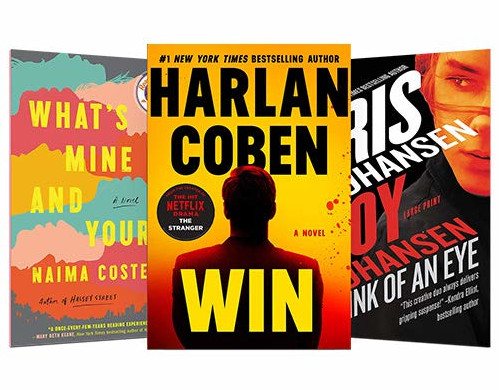 It's time for another roundup of well-reviewed Kindle ebooks that are free for a limited time.
Amazon also has a list of popular Kindle ebooks on sale today only for one of their main deals of the day.
Please note the free Kindle books listed below are free as of May 23rd, 2021. Most of these titles are free for a limited time only and will expire in the next few days or hours before going back to the regular list price.
A good place to find more free Kindle books is on the free bestsellers list at Amazon.
You don't need to own a Kindle ebook reader or a Fire tablet to read these free ebooks; you can use free Kindle reading apps for iPad, iPhone, and Android devices, or use a computer or web browser.
Subscribe to The eBook Reader Blog to keep updated on future free ebooks posts, along with ebook reader news, reviews and how to guides.
Kindle Deals
Select popular fiction Kindle eBooks for $4.99 or less – Deal ends May 23rd
Get 20-40% off Kindle Unlimited Gift subscription
Kindle Paperwhite 3 – $59.99 refurbished
Get 20% off when Buying 2 Kindles
Get Kindle Unlimited Free for 2 Months – New and returning subscribers, terms vary by account
Amazon First Reads – Free eBook for Prime Members
Get 20% off New Kindle with Trade-in
10 Free Kindle eBooks
Fear No Truth by LynDee Walker
Thriller, 4.4 stars, 333 reviews
As the rebellious daughter of a Texas political dynasty that groomed her to be a trophy wife, freshly-minted Texas Ranger Faith McClellan is determined to carve her own path. She's grinding away each day, hoping to land one of the coveted assignments on the cold case unit. But when a young woman is murdered in one of Texas' most affluent communities, Faith uncovers a series of shocking connections…
Hostile Takeover by Derek Blount
Suspense, 4.6 stars, 94 reviews
Pulled from the brink of suicide after suffering a tragic loss, John and Sarah Michaels enter an exclusive rehabilitation facility deep in the New Mexico desert where they hope to rediscover a reason to live. His life as a corporate raider behind him, John attempts to embrace the program to save his marriage and himself. But as the days pass, John begins to suspect all is not as it seems with the unusual treatment methods…
Bake It to the Limit by Wendy Meadows
Mystery, 4.4 stars, 93 reviews
Rita and Rhonda Knight are forty-four-year old twin sisters who retire from law enforcement and move to the quaint north Georgia town of Clovedale Falls in search of a quiet new life. They settle in for a lot of hard work getting their bakery business ready before the annual Pumpkin Festival begins, but they are taken by surprise when they find a dead man right next door—a dead man whose face is familiar…
Bitter Roots by C. J. Carmichael
Thriller, 4.4 stars, 2152 reviews
Murder in a small town is always personal. Dispatcher Zak Waller prefers working behind the scenes in the Sheriff's Office of Lost Trail, Montana, but when a newcomer to the sparsely populated town is brutally murdered—and the Sheriff is quick to pin the death on an unknown outsider—Zak starts his own private sleuthing. On the surface Lost Trail is a picture-perfect western town, offering a simple way of life revolving around the local ranches and ski hill…
A Summer of Surprises by Judith Keim
Romance, 4.5 stars, 813 reviews
ill Conroy is tricked by her sister into becoming the housekeeper and cook for the summer at Seashell Cottage where Greg Campbell and his nephew, Brody, have been hired to do maintenance projects on the house. Annoyed at first, Jill soon realizes how wonderful it is to be away from her home in New York and the memories of her deceased, emotionally abusive husband. Soon the magic of the beach heals Jill enough for her to decide to move to Florida permanently to make a new life for herself…
Space Race by Nathan Hystad
Science Fiction, 4.5 stars, 119 reviews
Arlo Lewis was resigned to his station in life as a supply hauler for one of the Primary Corporations ruling Earth, until an acquisition forces him to re-evaluate his situation. When he's hand selected to lead SeaTech's Race team, he struggles to return to the competitive field he abandoned as a teenager. With an eager team, and the promise of a better future, Arlo takes on the challenge, only to find more at stake than the rights to Proxima…
Dead Witch on a Bridge by Gretchen Galway
Mystery, 4.4 stars, 204 reviews
On her first assignment as a demon-hunting witch, Alma was unable to kill. Now broke and unemployed at twenty-six, she lives in Silverpool, a remote town in a redwood forest north of San Francisco, where she sells magic-infused jewelry and tries to live a drama-free life. When fairies draw her to the dead body of her ex-boyfriend, she must defend herself and the hidden power in Silverpool from an influx of supernatural trouble. The only way to make peace—and stay alive—is to find the killer…
The Best Joke Book for Silly Kids by Silly Willy
Children's Books, 4.5 stars, 246 reviews
This book is full of the funniest jokes, one liners, riddles, brain teasers, knock knock jokes, would you rather scenarios and trivia! Kids will be laughing and sharing silly gags with everyone in no time! Great for early readers! Be warned, some of these jokes are really, really, really silly. So silly, in fact, it is hard not to laugh!
The Someday File by Jean Heller
Mystery, 4.4 stars, 252 reviews
Deuce Mora's one tough cookie–-a female sleuth with a conscience and an attitude–-fiery, tough, athletic, a dirty fighter when she has to be. In two-time Pulitzer Prize finalist Jean Heller's first mystery featuring the scrappy newspaper columnist, Deuce finds out in short order that if you mess with organized crime, you have to be tough—and you'd better be as much detective as reporter…
On The Border With Crook by John Gregory Bourke
History, 4.4 stars, 315 reviews
On the Border with Crook is considered one of the best firsthand accounts of frontier army life, as the author of the book gives equal time to both the soldier and the Native American. John Bourke, the author of this book was a captain in the United States Army. He served as an aide to General George Crook in the Apache Wars from 1872 to 1883. As Crook's aide, Bourke had the opportunity to witness every facet of life in the Old West—the battles, wildlife, the internal squabbling among the military, the Indian Agency, settlers, and Native Americans. Bourke kept a diary in sequential journals throughout his adult life, documenting his observations in the West…