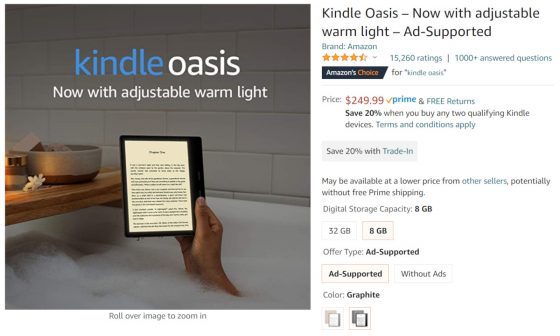 All year long Amazon has had an ongoing promotion where you can get 20% off when buying two new Kindles.
The deal started in January and they've been running it pretty much non-stop ever since. The only time they took the offer down is when they put Kindles on sale for Valentine's Day and Mother's Day.
Is it really that common for people to buy two Kindles at the same time?
Why does Amazon keep pushing this 20% off sale? It's been 6 months of the same thing over and over, and they've only had Kindles on sale twice all year for the entry-level model and the Kindle Paperwhite. The Kindle Oasis hasn't been on sale once.
I don't get these type of sales that require purchasing two Kindles to get a deal. Why punish customers if they only want to buy one Kindle? It's not like Amazon offers a wide variety of models in various sizes like other companies.
The lack of variety makes it unreasonable to expect people to own multiple Kindles. If you have a Paperwhite there's no reason at all to get an entry-level model, and if you get an Oasis there's little to no reason to get a Paperwhite as well, so unless Amazon expects everyone to buy a Kindle to give to someone else the promotion doesn't even make sense.
The 20% off deal isn't nearly as good of a deal as a typical Kindle sale unless you buy the most expensive models, so you're better off just waiting for a real Kindle sale if you want to get a discount instead of having to buy an extra Kindle you don't even need.
It would be nice if Amazon would release new Kindles once in a while that people are actually interested in buying instead of having to resort to gimmicks like this to sell more units.