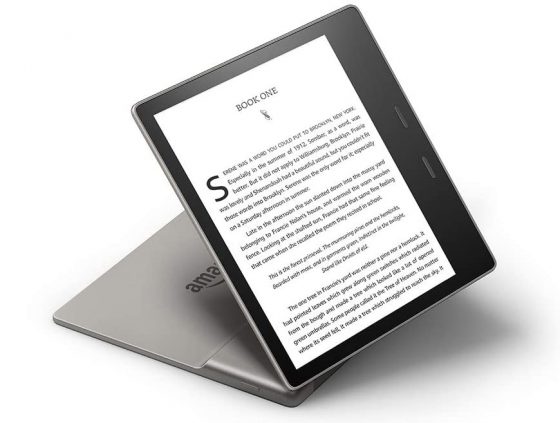 Here's a list of ten free highly-rated Kindle ebooks to help get the weekend off to a good start.
Amazon also has some early Prime Day Deals, with 20% off select Kindle books, among other deals.
Please note the free Kindle books listed below are free as of June 5th, 2021. Most of these titles are free for a limited time only and will expire in the next few days or hours before going back to the regular list price.
A good place to find more free Kindle books is on the free bestsellers list at Amazon.
You don't need to own a Kindle ebook reader or a Fire tablet to read these free ebooks; you can use free Kindle reading apps for iPad, iPhone, and Android devices, or use a computer or web browser.
Subscribe to The eBook Reader Blog to keep updated on future free ebooks posts, along with ebook reader news, reviews and how to guides.
Kindle Deals
20% off Kindle eBooks at Checkout – Prime membership required
Get 20-40% off Kindle Unlimited Gift subscription
Get 20% off when Buying 2 Kindles
Get Kindle Unlimited Free for 2 Months – New and returning subscribers, terms vary by account
Amazon First Reads – 2 Free eBooks for Prime Members
Get 20% off New Kindle with Trade-in
10 Free Kindle eBooks
Whispering Pines Mysteries Box Set by Shawn McGuire
Mystery, 4.7 stars, 192 reviews
Former detective Jayne O'Shea goes to prepare her grandparents' lake house for sale and finds a dead body in the backyard. When it becomes obvious the sheriff isn't going to investigate the death, Jayne jumps right in. Her list of suspects grows faster than the plants in the village commons' pentacle garden. Could it be the local Wiccan green witch with her stash of deadly plants? The shopkeeper who foretells death? Or maybe the visitor determined to learn black magic?
Graham: The Brothers of Hastings Ranch by Katharine E. Hamilton
Romance, 4.7 stars, 199 reviews
Receiving a frantic call from her friend Alice, Julia McComas packs her bags and heads to a ranch in Texas where she encounters critters, cows, and a handful of handsome cowboy brothers. Her presence interrupts their daily routine, and one brother in particular makes his annoyance well known: Graham. As the oldest of seven brothers, Graham Hastings takes his role as leader of the family business seriously…
Arcane Rising by Nicole R Taylor
Fantasy, 4.3 stars, 105 reviews
After her secretive father dies, Elspeth Quarrie embarks on a quest across the world to discover her unknown Scottish heritage. Landing in Edinburgh, she doesn't count on her first day being full of creepy graveyards, several attempted abductions, and nightmarish creatures hiding behind human faces. When fate catches up with her, a mysterious stranger by the name of Raurich 'Rory' Mackenzie is there to help — only Elspeth does the saving, blasting their attacker with magic she didn't know she had…
Spiked by C.P. Rider
Paranormal Romance, 4.5 stars, 409 reviews
My name is Neely and I'm a telepath-spiker. Not only can I read a person's thoughts, I can also spike deadly power straight into their brain. But don't worry, I have strict rules about that sort of thing. I'm hiding again. This time in a California desert truck stop town run by Lucas Blacke, a tiger shifter and alpha leader who's as handsome as Lucifer and twice as slippery. I've been running from alphas like him my whole life. They either want to own me or kill me—there is no middle ground…
Goodbye Port Alma by Anne Shillolo
Mystery, 4.6 stars, 69 reviews
A beautiful teen is killed on a glorious June afternoon, hidden in plain sight, and discovered by an anonymous caller. Did her secrets die with her? Or are they still alive – with the power to seduce and destroy the lives of a select few? DC Holly Towns is on the team that has to untangle a far-reaching web of sex, drugs, and money, and solve a crime that threatens to tear the city apart…
Empire of Bones by Terry Mixon
Science Fiction, 4.4 stars, 308 reviews
After a terrible war almost extinguished humanity, the New Terran Empire rises from its own ashes. Sent on an exploratory mission to the dead worlds of the Old Empire, Commander Jared Mertz sets off into the unknown. Only the Old Empire isn't quite dead after all. Evil lurks in the dark. With everything he holds dear at stake, Jared must fight like never before. Victory means life. Defeat means death. Or worse.
Everville: The Rise of Mallory by Roy Huff
Young Adult Fantasy, 4.5 stars, 33 reviews
As the epic journey continues, a victorious Owen Sage stands undefeated against his enemies. His last battle in Everville gave rise to a new insidious evil, Mallory; whose determination to defeat him opens an unexplored Pandora's box. Owen's search for truth will unveil the mystery and surprising insights surrounding himself and his friends at Easton Falls University. New creatures will be uncovered and the true value of friendship will be tested, as Owen embarks on yet another battle in Everville.
The Blue Tower by J.B. Simmons
Children's Books, 4.5 stars, 132 reviews
Cipher wakes up in the Blue Tower with no memories of his former life. He discovers that he is not alone. Dozens of boys and girls must compete in a battle called the Scouring against four other towers–Red, Green, Yellow, and Black–each with its own rules and powers. In his first Scouring, Cipher captures Emma, a girl from Yellow, whose memories from Victorian England move Cipher to uncover his own past. He must learn who he was before he can figure out why he's here…and how to get out.
The Sugar Queen by Tess Thompson
Romance, 4.6 stars, 289 reviews
At the tender age of eighteen, Brandi Vargas watched the love of her life drive out of Emerson Pass, presumably for good. Though she and Trapper Barnes dreamed of attending college and starting their lives together, she was sure she would only get in the way of Trapper's future as a hockey star. Breaking his heart, and her own in the process, was the only way to ensure he pursued his destiny…
Cats and Catnapping by Julia Koty
Mystery, 4.7 stars, 22 reviews
Mira Michaels finally calls her old life quits. She moves out of her psychic sister's house and is on the road to her new life. Her trip to Pennsylvania starts simply, even if her cat, Arnold, can't stop backseat driving. She refuses to accept that she can hear his kitty voice, until the radio refuses to work. Then, at a rest stop she witnesses a catnapping of the sweet kitty that Arnold has a crush on. Mira promises to chase the catnapper across the northeast and find the cat's owner all before she must meet her realtor at her new house. Antics ensue.