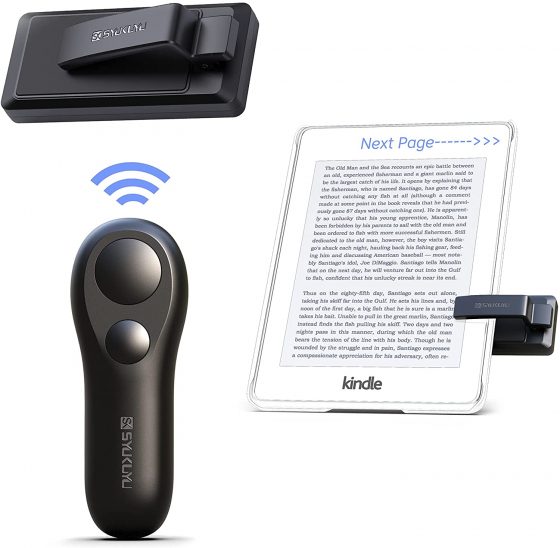 Yesterday I came across an advertisement on Amazon for a remote control page turner that works with Kindle ereaders.
The device also works with other ebook reader brands, as well as tablets and pretty much anything else with a capacitive touchscreen.
The product is called the SYUKUYU RF Remote Control Page Turner and it currently sells for $29.99 from Amazon.
I haven't seen anything quite like this before. The way it works is you attach a clip to your device that touches the screen and then you can use the remote to turn pages.
There are some obvious limitations, like not being able to page backward, and the biggest negative for me is just having to see the clip at all times. It's kind of distracting to the eye, and it looks like it would block the view of the text unless it's placed just right.
Nonetheless, other methods require hacking Kindles to use a remote controls so it's good to see an easier option now exists for those that need it.
It would be a lot easier if Amazon would just allow the built-in Bluetooth on Kindles to be used for Bluetooth page turners then you wouldn't have to use a separate attachment, but that's probably not going to happen.
Remote Control Page Turner