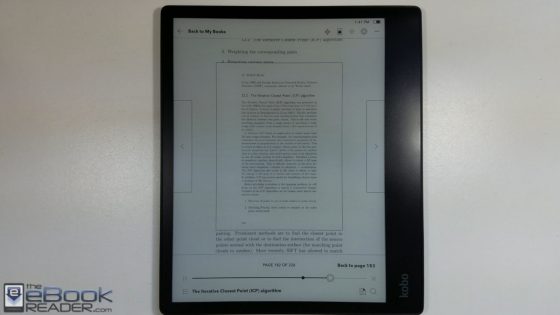 Now that Kobo has released the Kobo Elipsa with a 10.3-inch E Ink screen and stylus support, some are considering getting it to use as a PDF reader and annotator, so let's take a look at how it fares when it comes to reading PDF files.
Kobo's PDF software has never been known for being particularly good, especially when compared to other E Ink devices, but they have improved it some over the years.
The Kobo Elipsa's larger E Ink display helps overcome some of the software's shortcomings, and the 10.3-inch Carta screen does look really clear, and it has a paper-like texture that feels nice. A frontlight is included as well; it lacks temperature control but Kobo did finally officially add Dark Mode to invert colors.
When reading PDFs all the main features are there as you'd expect, including active hyperlinks, bookmarks, table on contents, search, you can lookup words in the dictionary, scan pages by holding down in the corners, and there's a list that keeps track of all your annotations.
However, there are still three key features the Kobo Elipsa lacks when it comes to reading PDFs: margin cropping, contrast adjustment, and annotations export. Update: Annotations can be exported by transferring the PDF back to your computer.
There's a custom zoom dial to zoom in on a PDF, and you can use pinch-zooming as well, or double-tap to zoom in and out. Once zoomed in you can pan around the page; the response can be a little jittery but it works okay.
The problem is once zoomed in it will default to the top left corner of every page when turning pages, so you have to manually pan every page to re-center it, which makes it difficult to work with PDFs that have large margins. Update: They finally added a zoom lock feature with a software update to keep the zoom level from resetting with every page.
PDFs vary so much from one to the next, though, so it greatly depends on the type of PDF files you read and how large the margins are to begin with.
The Kobo Elipsa also has a rotation sensor and can be used in landscape mode to help increase the text size without zooming. The larger screen helps some with not having margin cropping, but it can still be a problem at times.
The Kobo Elipsa can export notes from the Notebook app using Dropbox or a computer. t's also worth noting you can't add typed text notes to PDFs like you can regular ebooks, and Kobo makes certain to note that you cannot annotate PDFs with DRM or certain annotation restrictions.
With PDFs the writing style is very limited. You can't change pen types, adjust line sizes or use different colors when writing on PDFs like you can with the dedicated Notebook app.
On one PDF I encountered a bug where writing would disappear when turning pages, but it still showed up on the annotations list. Other than that I had no issues testing ten or so different PDFs on the Elipsa. Performance is better than earlier Kobo models, even if some software features are lacking.
Conclusion
Overall the Kobo Elipsa is a rather basic PDF reader in its current state. It's not a bad option if you can live without things like margin-cropping and contrast adjustment, but if you need something more advanced Onyx's ereaders add a lot more features. They're more expensive, and I don't think their ebook app is as good as Kobo's, but when it comes to PDFs they're hard to beat.
At some point maybe KOReader will get ported to the Kobo Elipsa to add more PDF features like I showed on the Kobo Aura One a few years back.
Kobo Elipsa PDF Files Video Review