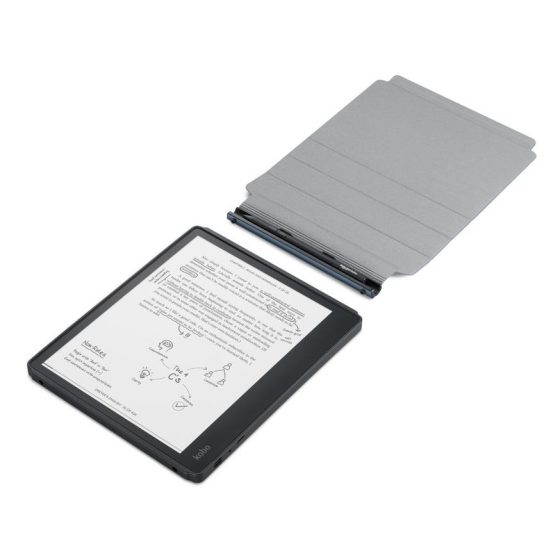 Before posting the review for the Kobo Elipsa, I wanted to post a quick write-up of the official sleepcover that comes with the Elipsa.
At first I really disliked the included cover because it's so heavy and bulky, but after using it for a while it does have its uses.
First off, I don't like how Kobo requires purchasing the cover as part of a pack with the Kobo Elipsa. Why force people to pay extra for a cover if they don't want it? Odd decision.
My biggest gripe with the cover is the simple fact that it nearly doubles the weight of the Kobo Elipsa and makes it feel like a tank. On its own the Elipsa weighs a respectable 388 grams, but then when you add the cover you're carrying around a 752 gram brick. That's heavier than a 12.9″ iPad Pro by 70 grams.
Despite the added weight, the Kobo Elipsa sleepcover comes in handy when writing because it can prop the reader up in a position that is more comfortable for writing. It's not entirely obvious, and the cover doesn't fold that way naturally, but if you look at the picture to the right you can see how you can push the cover into a point when folded back for a prop, and it's quite sturdy that way.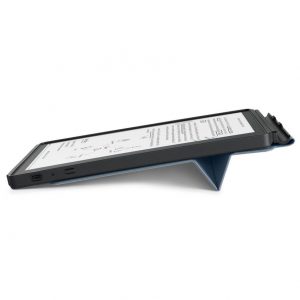 The cover also has a slot to hold the stylus so you don't misplace it.
The front flap on the cover is held on by magnets and it can be removed from the base and attached to either end to accommodate both left and right-handed usage, and in true sleepcover fashion, it turns the device on and off when opening and closing.
The cover does provide a good amount of protection because it covers all sides of the Elipsa and the front flap is really thick and heavy.
Overall, I do wish the cover was sold separately like usual but it does provide ample protection and helps with writing so it is useful, despite weighing a ton. It fits pretty tight but it's fairly easy to remove so you can go without if you want a more comfortable reading experience. There's no way I could stand using the cover while reading an ebook because it just adds too much weight, but it's good as a prop when writing or reading on a desk and it provides adequate protection for travel.