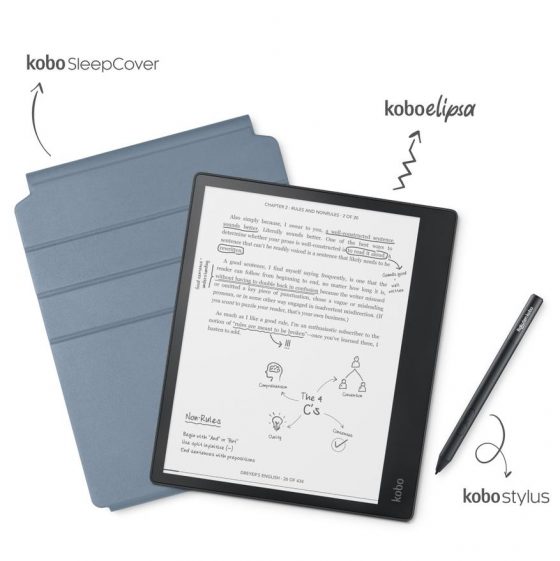 Review Date: July 2021 – Review unit purchased from Kobo
Overview
Released on June 24th, 2021, the Kobo Elipsa is Kobo's first ereader to come with a larger 10.3-inch E Ink screen, and it's also their first stylus-equipped note-taking model.
The Kobo Elipsa is sold as part of a pack that includes a stylus and a heavy-duty cover that can be used as a stand, which also has a slot to hold the stylus. See my Kobo Elipsa sleepcover review for a closer look.
The Kobo Elipsa sells for $399 USD from Walmart and Amazon, making it one of he most reasonably-priced large screen ereaders on the market.
Kobo Elipsa Review
Pros
The 10.3″ E Ink screen looks great, and it has an evenly-lit frontlight.
Pleasant writing experience, and the device has a textured coating that feels nice and adds grip.
Fully-featured ebook app provides a better reading experience than other large-screen E Ink devices.
Cons
Kobo does not provide a way to export notes and highlights added to ebooks.
No frontlight temperature control.
Fewer features compared to similar devices when it comes to note-taking and reading PDFs.
The included cover is heavy.
Verdict
As a large-screen ereader the Kobo Elipsa gets high marks. The screen looks great, the software is quick and responsive, the frontlight is adequate, and Kobo's ebook app is simply better than what comes on most other devices. However, the note-taking functions are more basic compared to the Remarkable and Onyx Note models, but the overall writing experience feels good.
The Onyx Note Air or Note3 is going to be a better choice for people that need more advanced software features with the ability to install apps, and the Remarkable 2 is better as a pure note-taking device, but the Kobo Elipsa is the better ebook reader, and in some respects I like the simplicity of it compared to Onyx's ereaders. If Kobo continues to develop the writing and PDF features, and if they add more exporting options, then they'd have a great device. At this point it still feels like it's a kind of a work in progress on the software side, but they're off to a good start.
Kobo Elipsa Video Review
Hardware
The Kobo Elipsa comes with 32GB of storage, 1GB of RAM, and it's the first Kobo to come with an upgraded quad-core 1.8GHz CPU and a USB-C port. It supports Wi-Fi and Bluetooth, and it has a touchscreen for notes and drawings, along with a regular capacitive touchscreen for finger touch.
The upgraded processor and increased RAM does help the device feel a bit zippier than other Kobos, and battery life is still solid.
So far Bluetooth is just a beta feature and isn't really useful for anything because the device doesn't support audio. You can connect a keyboard but the Note app doesn't support keyboards so it can only be used for a couple basic tasks like typing searches and naming notes.
Kobo doesn't specify what type of touchscreen it uses but apparently it uses Microsoft Pen Protocol instead of Wacom like most other e-Notes. The stylus has a textured coating, with dedicated buttons for erasing and highlighting, and performance feels on par with similar e-Note devices. The stylus uses one AAAA battery.
Screen
I've been saying for years that large E Ink screens are vastly underrated, and the 10.3-inch size hits the sweet spot. To me these large E Ink screens provide a much nicer reading experience than LCD screens, and the page doesn't feel as cramped as smaller 6-inch ereaders.
Kobo claims the Elipsa uses a new Carta 1200 screen with improved contrast. I already posted a rant about that so I won't rehash that here. Basically, compared to my Onyx Note2 with a Mobius screen, the contrast does look a little better, but compared to the Remarkable 2 it looks worse (because the RE2 doesn't have as many layers over the screen with no frontlight).
The Kobo Elipsa has a frontlight but it lacks the ability to change the color temperature like Kobo's other ereaders, a notable drawback for some. It does have Dark Mode to invert the colors so there's the option to use that and a lower frontlight level at night.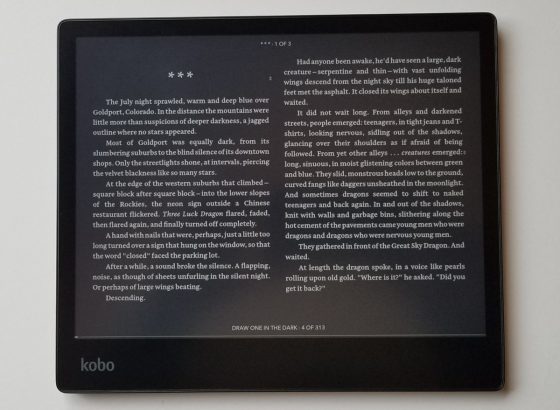 Frontlights can vary a lot from one unit to the next, but the frontlight uniformity is quite good on my Elipsa. If I crank the light it does have a bit of a gradient from left to right, with the left side being slightly yellower, but it's pretty subtle and isn't something I notice at lower levels. There are no obvious shadowy areas or bright spots so it gets the seal of approval from me, and I'm pretty picky about frontlights. The lack of a warm light doesn't bother me.
Software
All of Kobo's ereaders basically run the same software and offer the same features. See the Kobo Software Features Page for a full list of Kobo's software features.
The Elipsa adds a couple of new exclusive features, including the ability to markup ebooks and PDFs, and they added Notebooks for writing and drawing, and Dark Mode to invert the text.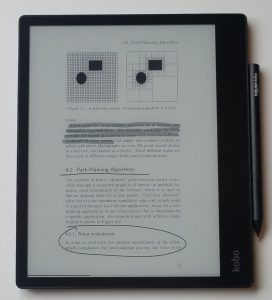 There are two types of Notebooks, advanced and basic. To be honest I'm not much of a note-taking person anymore so the Notebook features aren't something I have much interest in using, so it's time for some outsourcing. There's this Elipsa Notebooks review at MobileRead that shows how both types of Notebooks work, and it's far more detailed than anything I'd put together.
For the most part the software is working pretty well on my Kobo Elipsa, but I have encountered a few bugs with notes and highlights disappearing from view (but they still show up on the annotations list), and sometimes it's hard to accurately highlight with ePubs. Hopefully they'll get these issues straightened out in time.
More Kobo Elipsa Reviews
Kobo Elipsa PDF Files Review
Kobo Elipsa SleepCover Review
Kobo Elipsa User Guides and Tips
Kobo Software Features List
Kobo Elipsa Specs
10.3-inch E Ink Carta 1200 screen.
1872 x 1404 resolution (227ppi).
Stylus and sleepcover included.
Capacitive touchscreen (2-point).
Frontlight (no temperature control).
Quad-core 1.8GHZ processor.
32GB storage space.
1GB RAM.
WiFi 802.11 ac/b/g/n.
Bluetooth.
USB-C port.
Supported formats: EPUB, EPUB3, FlePub, PDF, MOBI, JPEG, GIF, PNG, BMP, TIFF, TXT, HTML, RTF, CBZ, CBR.
Dimensions: 193 x 227.5 x 7.6mm.
Weight: 388 grams.