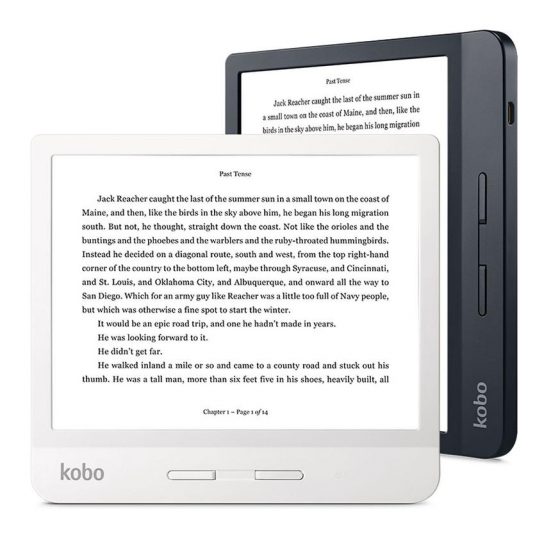 Below is a list of all the main software features that Kobo ereaders support, including the notebook and writing features that are exclusive to the Kobo Elipsa.
I've decided to use a new format for reviews. Since software features rarely change from one model to the next, I'm going to start focusing mostly on hardware and any new features added with reviews instead of repeating the same software features over and over again every time.
Instead, I'll refer to this post for all things related to software, and it will be easier to keep it updated when new features are added.
Kobo eReader Software
For the most part all Kobo ebook readers run the same software and have all the same features, with a few exceptions. For instance, the Kobo Forma and Kobo Elipsa are the only two models with official Dropbox support to transfer files wirelessly, and the older models don't have OverDrive built-in but they still support library ebooks.
One of the advantages with Kobo ereaders is they are open to installing other ebook programs and custom patches and mods, and you can use Calibre to manage your ebook library and collections. Check the Kobo section at MobileRead for the latest developments. These will not be covered in this list; this list is for official Kobo features only.
List of supported formats for Kobo ereaders: KEPUB, EPUB, EPUB3, FlePub, PDF, MOBI, JPEG, GIF, PNG, BMP, TIFF, TXT, HTML, RTF, CBZ, CBR.
Kobo Reading Features Explained
Homescreen: The Kobo homescreen shows the four most recently opened files along the top, with lower elements that a change from time to time to highlight different features, like library borrowing.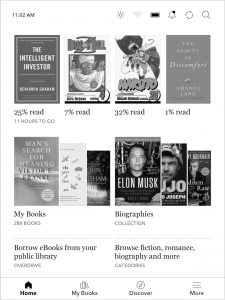 Library: The "My Books" section shows a list of all the books on your Kobo. There's the option for list view and cover view. Long-press book covers for additional options. There are a number of sorting and filtering options, and you can also group books by author, series, and you can create custom collections.
Menu Bar: Along the top of the screen there's a menu bar with the option to adjust the frontlight, turn Wi-Fi on/off, check the battery percentage, read notifications, sync, and search.
Frontlight Control: On Kobos you can adjust the frontlight brightness by swiping up and down along the left side of the screen, and models that have a warm frontlight can set it to automatically turn on at a specified time from the settings menu.
Notes and Highlights: Hold down on a word and drag to add highlights. You can also add text notes to highlights using the onscreen keyboard. There's an annotations list to view and edit them, but there's no option to export text notes and highlights unfortunately.
Bookmarks: When reading a book, tapping the upper right hand corner adds and removes bookmarks. They can be viewed from the annotations list, where you can add text notes to them as well.
Fast Page Scan: If you press and hold in the lower corner of the screen or with either of the page buttons on models that have them you can quickly flip through pages. It only works with ebooks in Kobo format (.kepub), and it works with PDFs now too but not as fast.
Font Choices: Kobo's software offers 13 font choices and over 40 font sizes. Font weight can be adjusted to darken text. You can also sideload your own TTF and OFT fonts by placing them in a folder titled "fonts" on the Kobo drive. Pre-installed font choices include: Amasis, Avenir Next, Caecilia, Georgia, Gill Sans, Kobo Nickel, Malabar, AR UDJingxihei, Kobo Tsukushi Mincho, Kobo UD Kakugo, OpenDyslexic, STIX Two Math, and STIX Two Test.
Text Adjustment: All Kobo ereaders offer line spacing and margin adjustment for ebooks. There's also the option to choose full justification, left justification, and you can turn justification off. These don't always work with sideloaded books, however, not without making changes to the book's code using Calibre.
Dictionary: Holding down on a word opens a dictionary window. From there you can choose different dictionaries and translation dictionaries. 26 different dictionaries are available to download in the main settings menu. If the dictionary text is too small you can increase it by switching to Large Print Mode from Settings > Beta Features.
Search: You can run searches within ebooks for specific terms and easily navigate around the book using search. You can also highlight a word or phrase while reading and then choose to search Wikipedia or Google and a window will popup to open the browser. Note: Kobos don't index everything like Kindles.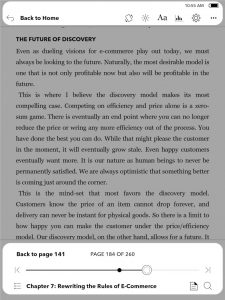 Navigation: There's a table of contents for navigating through an ebook, along with a page dial to jump around. In the settings menu you can set it to turn pages by tapping or swiping, or swiping only.
Page Taps: In the settings menu there are different tap zones that you can set to page forward, back, and open settings.
Header and Footer: The Header can be set to show pages left in chapter, percent of chapter read, or time remaining in chapter. The Footer can be set to show pages left in book, percent of book read, and time remaining in book. Both can be disabled as well.
Reading Stats: Kobo ereaders offer reading stats that provide information about how long it will take to finish an ebook and chapter based on your reading speed. It shows book progress, chapter progress, average minutes per reading session, average pages per minute, total hours reading, and the percentage of total library read. There's an indicator while reading that shows upcoming chapter length too. Works only with Kobo ePubs.
Reading Awards: There's a section for reading awards. You can earn various badges for accomplishing certain tasks and goals. Works only with Kobo ePubs.
OverDrive Support: All current Kobo ereaders support OverDrive for getting free ebooks from public libraries. Available in Canada, the United States, the United Kingdom, Australia, New Zealand, Denmark, Finland, Norway, Sweden, Taiwan, Hong Kong, and Singapore.
Pocket Integration: Kobo ereaders work with Pocket, a service that can send web articles that you've tagged online to your Kobo device. The articles get reformatted to display better on mobile devices.
Landscape Mode: The Kobo Libra, Kobo Forma, and Kobo Elipsa offer landscape mode for reading, but not on the homescreen or anywhere else. Screen orientation can be locked.
Partial Page Refresh: In the settings menu you can set E Ink page refresh from 1 to 10 pages or at every chapter.
Beta Features: From the main settings menu there's a beta features section with additional features, but it varies between models and firmware versions. The Kobo Elipsa has the most options, including a web browser, large print mode, My Words vocabulary builder, there are Bluetooth settings, and a few games: sudoku, unblock it, solitaire, and word scramble.
Dropbox: The Kobo Forma and Kobo Elipsa can be linked to Dropbox to transfer files wirelessly.
Discover (Kobo eBook Store): On the homescreen and library view there's a link for "Discover" that leads to the Kobo ebook store to shop for ebooks and download OverDrive library books.
Kobo Elipsa Exclusive Features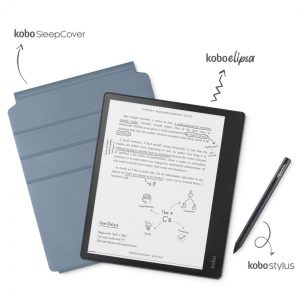 Since the Kobo Elipsa doubles a note-taking device, it adds some extra features that aren't available on other Kobos, including the ability to write directly on ebooks and unprotected PDFs.
Mark up eBooks and PDFs: The Kobo Stylus can be used to add highlights and handwritten notes to books in ePub, Kobo ePub, and PDF formats. However, there is no way to export annotations. Highlights in Kobo ebooks sync with other Kobo devices but not handwritten notes, and you also cannot write on PDFs that have DRM or permission limitations restricting annotations.
Basic Notebook: The Basic Notebook offers 4 page background types—graph, lined, dots, and blank—and you can write and draw anywhere on the page like regular paper.
Advanced Notebook: The Advanced Notebook has no background types, just lines, and can be used to convert handwritten notes to typed text by double tapping. You can also insert Drawings, Diagrams, Math Equations, and Free-form Sections. The Advanced Notebook also supports gestures for editing, and it can be switched to landscape mode.
Stylus Types: With Notebooks, there are five different stylus types: ballpoint pen, fountain pen, calligraphy pen, brush, and highlighter (basic only). There are 5 pen sizes for varying line thickness, and 5 pen shades.
Erase: There are two eraser types, Object, which erases full pen strokes, and Brush for fine detail. Both notebook types also offer undo/redo functionality.
Notes Export: Notebooks and individual note pages can be exported using Dropbox or a computer via USB.
Dark Mode: The Elipsa is the only Kobo model with official Dark Mode support to invert colors for white text on a black background. Other models have an unofficial version that can be accesed under developer settings.
Visit Kobo's Help Website for more software tips.