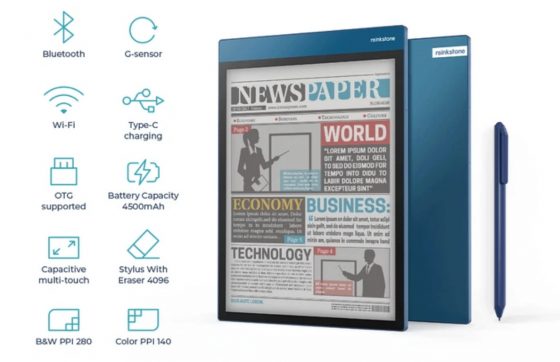 A new Android-powered color epaper tablet recently turned up on Kickstarter called the Reinkstone R1, and it's the first device to use a new type of color epaper display technology (DES).
I've been hesitant to bring attention to the Reinkstone R1 because whenever a new ereader turns up on Kickstarter it almost always ends up being a shameless money grab for a product with underdeveloped software and untested hardware.
Frankly, the Reinkstone R1 raises a lot of red flags and looks like it could fall into that category as well, especially after seeing the video below.
The Reinkstone R1 Kickstarter campaign has now ended, but they did manage to raise over 1 million dollars with 2424 backers.
I'm not going to go into specifics about the device itself because it's unlikely to ever be a viable product, but you can read the campaign details if you want.
The real news here is the new type of epaper screen technology they're using called DES. It has higher resolution and better color than E Ink's current products, but from the video it still looks like the technology has a long way to go.
A lot of alternate display technologies have come and gone over the years and none have been able to take a bite out of E Ink's market. It will be interesting to see how DES evolves moving forward but it's going to take a lot of work to iron the bugs out.
It seems like these companies that launch ereaders on Kickstarter think they can just throw an Android operating system on the device and be done with minimal work, but it's never that easy, especially when you're working with a new unproven type of display technology.
I'm surprised they would even send out pre-production review units of a product that runs this poorly, with a seemingly defective screen to boot. It's going to be nearly impossible to fully develop the software and get things running smoothly in 4 months when they are supposed to start shipping to backers.
Reinkstone R1 Hands-On Review