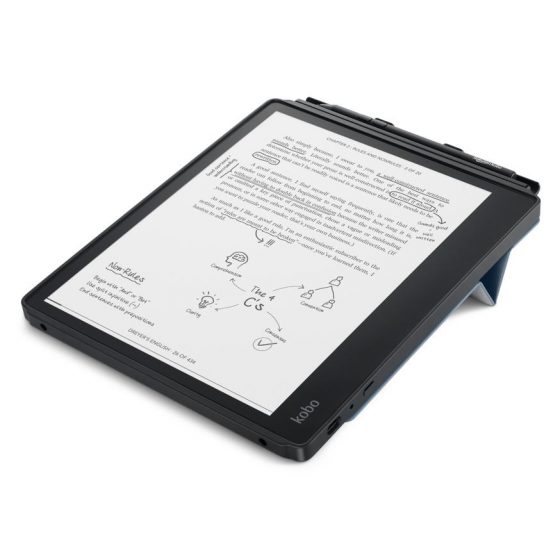 Last month Kobo surprised us by releasing the Kobo Elipsa, their first large format device with a 10.3-inch E Ink screen that can be used as both an e-reader and an e-notebook.
Similar devices first started coming on the market 3-4 years ago so Kobo is a bit late to the game, and their software department has some catching up to do to match the competition, but it's nice to see that Kobo's not afraid to try something new.
One thing I find a bit interesting is how Kobo is marketing the Kobo Elipsa. Nearly every paragraph on the Kobo Elipsa product page talks about the note-taking and stylus features, and all the pictures show someone holding the stylus.
I'm surprised they aren't also making more of a point to market it to people who want an ereader with a large E Ink screen for reading larger form content like PDFs, comics, manga, magazines, and just people who want a larger screen for reading regular ebooks.
For the most part I think there are three main reasons why someone would want to buy a Kobo Elipsa:
1. For the note-taking and drawing features.
2. To read and annotate PDFs (but currently with no option to export, Kobo is seriously neglecting this segment of the market).
3. To read ebooks (and other content like comics) on a larger screen, with the option to add handwritten notes and highlights to ebooks using the stylus.
At this point, as noted in my Kobo Elipsa review, the device is best as an ereader because of Kobo's well-developed ebook software, but there's room for improvement when it comes to the note-taking and PDF aspects.
That's why I find it a bit surprising that Kobo seems to be marketing it more as a note-taking device than a large format ereader. Perhaps they don't think there's a very large market for 10-inch ereaders but after seeing the success of the Remarkable and Onyx Note devices they wanted to get into the E Ink note-taking market as well.
The only problem with that is Kobo is strictly an ebook company. They can't make money selling notes to people so the only way they make money off of that is on hardware sales, and the Kobo Elipsa is one of the least expensive e-notes on the market at $399 with a cover, so it doesn't exactly seem like a highly-profitable venture.
It will be interesting to see if the Kobo Elipsa turns out to be a successful product for Kobo.
If you purchased the Kobo Elipsa or if you're considering it, what made you decide to get one? Was it more for the note-taking aspects or because of the larger E Ink screen for reading? Or a combination of both?