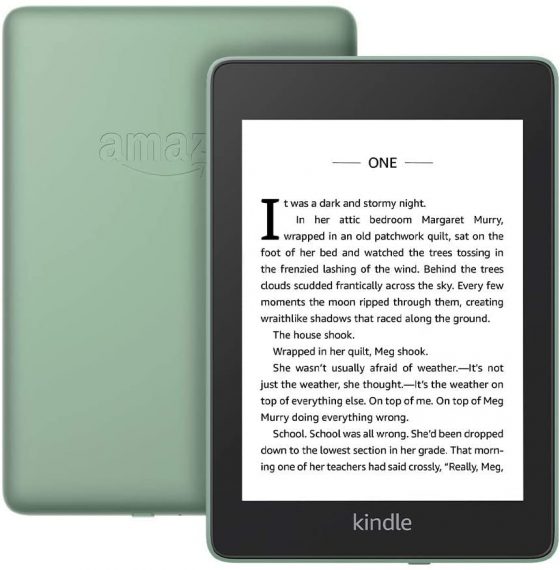 Here's a list of 10 free highly-rated Kindle ebooks for the weekend.
Amazon also still has Kindle ereaders on sale for another day or two. The Kindle Paperwhite is at its lowest price ever at $79 for the 8GB version and $99 for 32GB.
Please note the free Kindle books listed below are free as of August 21st, 2021. Most of these titles are free for a limited time only and will expire in the next few days or hours before going back to the regular list price.
A good place to find more free Kindle books is on the free bestsellers list at Amazon.
You don't need to own a Kindle ebook reader or a Fire tablet to read these free ebooks; you can use free Kindle reading apps for iPad, iPhone, and Android devices, or use a computer or web browser.
Subscribe to The eBook Reader Blog to keep updated on future free ebooks posts, along with ebook reader news, reviews and how to guides, or you can follow this site on Facebook and Twitter to get updates.
Kindle Deals
Kindle Paperwhite 4 – $79.99 ($50 off) 8GB model
Kindle Paperwhite 4 – $99.99 ($60 off) 32GB model
Kindle Paperwhite 4 – $189.99 ($60 off) 32GB cellular model
Kindle – $64.99 ($25 off)
Kids Kindle – $74.99 ($35 off)
Get 20-40% off Kindle Unlimited Gift subscription
Kindle Unlimited Promos – Offers vary by account
Amazon First Reads – Free eBooks for Prime Members
Get 20% off New Kindle with Trade-in
Chronicles of Narnia Complete 7-Book Collection – $4.99
Divergent Series Ultimate Four-Book Collection – $4.99
10 Free Kindle eBooks
Fortune Favors the Cruel by Kel Carpenter
Fantasy, 4.4 stars, 484 reviews
Quinn Darkova, freed from the chains of slavery, wants nothing more than vengeance against those who sold her. But with her dark powers on the rise and her ascension nearing, Quinn's blood retribution will have to wait in favor of her immediate survival. Lazarus Fierté is a nobleman without equal. He's as controlling as he is stubborn, and for the last six years he's been waiting for a woman to appear—but not just any woman…
Murder at Mile Marker 18 by Denise Jaden
Mystery, 4.6 stars, 92 reviews
If anyone had told Mallory Beck she would become Honeysuckle Grove's next unschooled detective, she would have thought they were ten noodles short of a lasagna. Her late husband had been the mystery novelist with a penchant for the suspicious. She was born for the Crock-Pot, not the magnifying glass, and yet here she is elbow deep in fettuccine, cat treats, and teenagers with an attitude, the combination of which lands her smack-dab in the middle of a murder investigation…
Follow Me Darkly by Helen Hardt
Romance, 4.5 stars, 1900 reviews
Skye Manning knows what she wants. Her job as assistant and photographer for a major social media influencer isn't perfect, but it's a rung on the ladder to bigger and better things. She's confident she'll one day take feature photos for National Geographic. Self-made billionaire Braden Black didn't get where he is by taking no for an answer. When a chance encounter with the refreshingly innocent and beautiful Skye piques his interest in more ways than one, he's determined to make her submit…
Blindsided by the Taliban by Carmen Gentile
History, 4.7 stars, 89 reviews
I turn to see a rocket-propelled grenade screaming toward me. The ordinance strikes me in the side of the head, instantly blinding me in one eye and crushing the right side of my face. On September 9, 2010, while embedded with an Army unit and talking with locals in a small village in eastern Afghanistan, journalist Carmen Gentile was struck in the face by a rocket propelled grenade. Inexplicably, the grenade did not explode and Gentile survived, albeit with the right side of his face shattered and blinded in one eye…
The Virgil Jones Mystery Thriller Series Box Set: Books 1-4 by Thomas Scott
Mystery, Thriller & Suspense, 4.6 stars, 219 reviews
Detective Virgil Jones, leader of the Major Crimes Unit tackles the hard cases, and this time a team of serial snipers are on the loose…their civilian victims chosen at random. Or are they? With no witnesses and very little evidence, the Major Crimes Unit is ordered to find and stop the killers by any means necessary. Except when Virgil's long-lost adopted brother, a convicted felon named Murton Wheeler comes back to town, in trouble and on the run, Virgil knows it's more than just coincidence…
The Alien's Ransom by Ella Maven
Science Fiction, 4.6 stars, 283 reviews
Frankie: I thought alien abductions only happened in movies. But here I am on a strange planet with green soil and a gang of muscled, wicked-horned aliens on hover bikes. All I want to do is go back to Earth, but the alpha male in charge has decided I belong to him. Now I'm on the back of his bike speeding to an unknown destination and super freaked out about liking his biceps and serious scowl. Good thing I have some banked personal days, because this might take awhile…
Heather (Hart Land Lakeside Inn Book 1) by Nick Vellis
Romance, 4.4 stars, 1195 reviews
Fiona Hart is the devoted matriarch. Elegant, wise, and arts patron, but despite all her efforts, she has yet to find her own artistic outlet. Lucy isn't just a housekeeper, she's part of the family. She also fancies herself a real life Dolly Levy, except she's much better at cooking up trouble than the perfect match. Innkeeper and retired general Harold Hart believes in hard work, discipline, and whatever his beloved wife wants. Katie O'Leary runs the One Stop, makes the best Irish soda bread this side of the Blarney Stone, and no one is quite sure if it's more than her baking that has the magic touch. Did we mention the Harts have nine granddaughters?
Potions, Poisons, and Peril by Shéa MacLeod
Mystery, 4.5 stars, 107 reviews
Emory Chastain, owner of Healing Herbs, sells everything from love potions to herbal tea blends. She is also the most powerful witch of the modern era. When a stranger drops dead in her shop, Emory is left with no choice but to investigate. Enlisting the help of her friends and the very handsome Noah, she soon discovers that someone is using magic to poison people, turning them stark raving mad. The clock is ticking, can Emory stop the killer? Or will time run out for the residents of Deepwood?
Anyone Can Draw Unicorns by Julia Smith
Children's eBooks, 4.4 stars, 36 reviews
This learn to draw books for kids is perfect for kids 09 – 12, but also for kids age 04 – 08 with a high interest in drawing will be able to follow the instructions easily as well. This How to Draw Unicorns: Step by Step beginners drawing for kids is the only sketch book for kids you'll need to turn your kids' creativity into artistic confidence, by having them learn how to draw cool stuff!
Dead City by Sean Platt
Technothriller, 4.3 stars, 69 reviews
Rising star Ian Keys has climbed to the top rungs of pharma giant Hemisphere — creator of Necrophage, the drug that paused the necrotic outbreak and allowed the infected to live among us. Ian's new position gives him access to dangerous secrets that could ruin the company. When ominous hints from an anonymous insider set him on the hunt for the biggest secret of all, he discovers that the "cure" the company gave the world might not have been a cure at all…