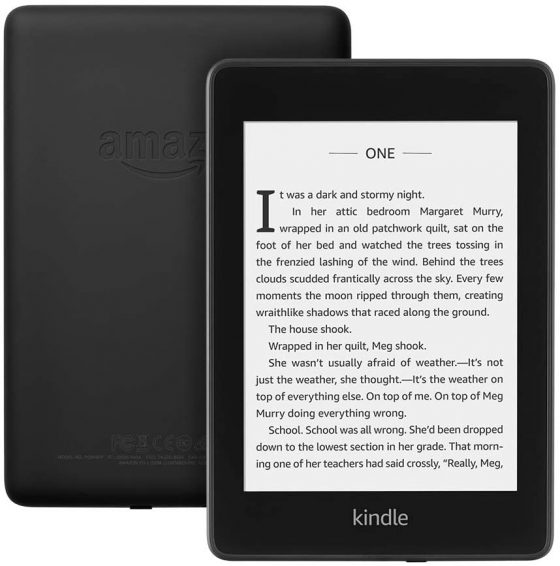 Amazon has the Kindle, the Kids Kindle, and the Kindle Paperwhite on sale once again. The price of the Paperwhite isn't quite as low as last week's Deal of the Day, but at $85 it's still a bargain compared to most other 6-inch ereaders.
This is like the 5th week in a row that Kindles have been on sale, further strengthening the likelihood that new models are coming before the end of the year, but if you don't care about that then now is a great time to get a Kindle ereader for cheap.
The weird thing about this sale is most versions of the Kindle Paperwhite aren't even "in stock", especially the 8GB model. They're listed as "in stock soon" and yet they're on sale anyway so it would seem they are trying to get rid of as many of these as they can.
I would advise against getting the entry-level Kindle. For only $25 more the Paperwhite is the much nicer device with a better screen, better battery life, and it has a nicer (and waterproof) design. The entry-level model is okay but it has the lowest resolution screen in the industry and the cheap plastic scratches really easily, and it also lacks the Dark Mode feature.
The Kids Kindle is exactly the same as the entry-level model, except it doesn't come with ads and it has an upgraded 2-year warranty, so it's actually the better deal for only $10 more (especially considering it costs an extra $20 to remove the ads on the non-kids version).
Amazon also has their Fire tablets on sale if you'd rather have a more versatile reading device, albeit without an easily-readable E Ink screen.
Kindle Sale
Kindle – $59.99 ($30 off)
Kindle Paperwhite 4 – $84.99 ($45 off) 8GB model
Kindle Paperwhite 4 – $109.99 ($50 off) 32GB model
Kindle Paperwhite 4 – $199.99 ($50 off) 32GB cellular model
Kids Kindle – $69.99 ($40 off)