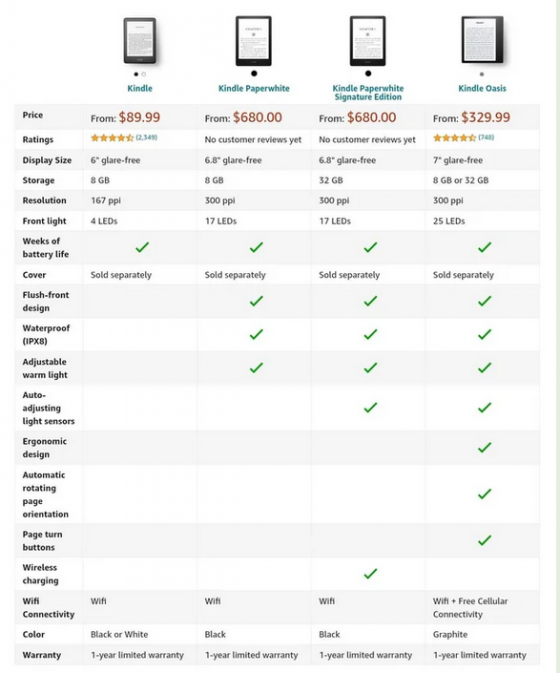 It looks like Amazon is getting close to releasing a couple of new versions of the Kindle Paperwhite soon, including a new Signature Edition with some interesting upgrades.
Update: Amazon has officially unveiled three different versions of the new Kindle Paperwhite and it's now available to pre-order.
There are several posts on reddit showing screenshots of the new Kindle Paperwhite appearing on some of Amazon's international websites in the Kindle comparison tables, but Amazon has since taken them down.
According to the screenshots, the new Kindle Paperwhite has a slightly larger 6.8-inch E Ink screen instead of a 6-inch screen like all the earlier versions, and it still has 300 ppi. Amazon has also finally added a warm frontlight to the Paperwhite line, and this new model has 17 LEDs now, up from 5 on the Paperwhite 4.
The new Paperwhite 5 is waterproof like the previous version, and it still has a flush front screen and appears to have a similar design as the previous model.
The Signature Edition adds more storage space (32GB vs 8GB for the standard version), along with an auto-adjusting frontlight and wireless charging.
Prices are still unclear at this point. On one screenshot they had the regular version listed at $149 and the Signature Edition at $209, but that was in Canadian dollars and they might've just been placeholders.
Stay tuned to The eBook Reader Blog for more updates on the upcoming release of the Kindle Paperwhite 5. I wouldn't be surprised if Amazon makes an official announcement later this week, especially now that the cat is out of the bag.
via: reddit