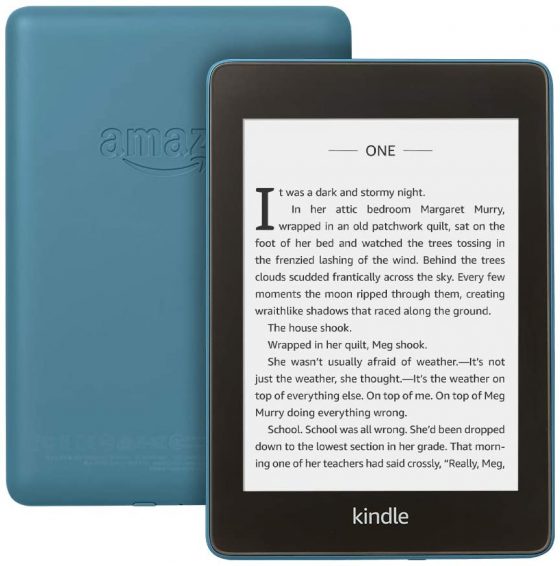 Amazon has announced that they've already started rolling out some early Black Friday deals today, so of course the previous generation Kindle Paperwhite is on sale again now that Amazon is getting ready to launch a new 6.8-inch Kindle Paperwhite later this month.
The Kindle Paperwhite 4 can now be had for as little as $74.99. They also have the 32GB cellular model marked down by $90 to $159.99. If you want a cellular Kindle at a discount that's the one to get since they aren't offering cellular on the newer model and the cellular Kindle Oasis costs at lot more at $350.
They have some Kindle Paperwhite covers on sale this time as well, and some Kindles are eligible for 10% back when using a Prime card.
Amazon has the entry-level Kindle on sale for $59.99 too and the kids version is $69.99 (they're the same Kindle; the kids version just comes with a cover and a better warranty).
There's also some refurbished Kindles on sale at Woot again but I won't link to them individually because they rarely last longer than a few hours. They have the entry-level Kindle and the Paperwhite 3 for $39, and a couple other deals.
Kindle Sale
Kindle – $59.99 ($30 off)
Kindle Paperwhite 4 – $74.99 ($55 off) 8GB model
Kindle Paperwhite 4 – $89.99 ($70 off) 32GB model
Kindle Paperwhite 4 – $159.99 ($90 off) 32GB cellular model
Kids Kindle – $69.99 ($40 off)
Kindle Paperwhite 4 Covers
Kindle Paperwhite Water-Safe Fabric Cover – $23.99 ($6 off)
Kindle Paperwhite Leather Cover – $31.99 ($8 off)
Kindle Paperwhite Hunger Games Cover – $22.49 ($7.50 off)