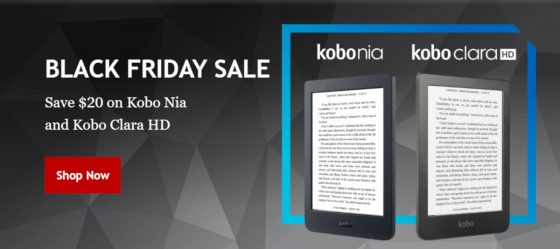 If you're in the market for a Kobo ebook reader, four of Kobo's devices are currently marked down by up to $40 for Black Friday.
There's also a listing on Walmart's website for a refurbished Kobo Elipsa pack for just $321. That's $78 off the list price of a new one.
The 7-inch Kobo Libra H2O is marked down to $149 at Amazon and Walmart. Personally, I don't think $20 off is a big enough discount for an older discontinued model. I think you're much better off just spending $30 more on the new Kobo Libra 2 with a better frontlight and a better screen, and it also adds 32GB of storage space.
The 8-inch Kobo Forma is still on sale as well, priced at $209, which is $40 off the regular price. It has some advantages over the newer Kobo Sage, like being 40 grams lighter and having a more durable Mobius screen, so it's still worth considering at that price.
The 6-inch Kobo Clara HD is marked down to $99 again too, its usual sale price. That's not a bad price for a 300 ppi ereader with adjustable frontlight color, but the device is 3.5 years old now so you'd think they could do better than the typical $20 off sale once in a while, especially for Black Friday.
Kobo's lower-end model, the Kobo Nia, is also $20 off at $79, but like I always say, the Nia makes no sense. You're better off just spending $20 more on the Clara HD with a better screen and a better frontlight.
Once again Kobo's Black Friday sales are pretty lackluster. It's no different than their typical sale prices. Like with most stores, Black Friday has just become a marketing term that doesn't really mean anything anymore.
Kobo Store at Amazon
Kobo Store at Walmart