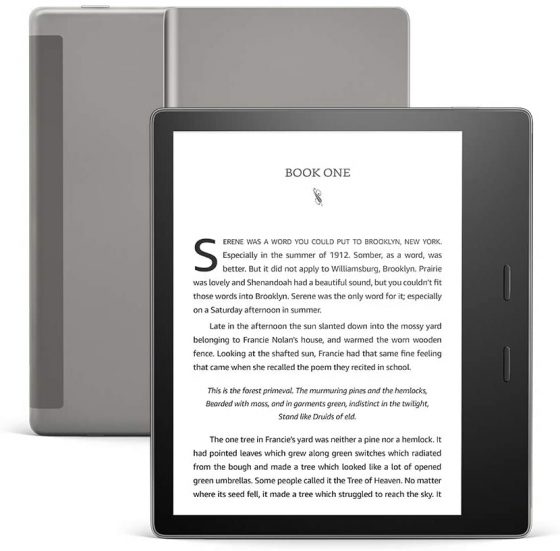 Here's a list of highly-rated Kindle ebooks that are available for free for a limited time.
It's also Cyber Monday so Amazon has Kindles on sale again, and this is probably the last day of the year to get the lowest prices on Kindles. The deals are exactly the same as Amazon's Black Friday sales so there's no surprises there.
Please note the free Kindle books listed below are free as of November 29th, 2021. Most of these titles are free for a limited time only and will expire in the next few days or hours before going back to the regular list price.
A good place to find more free Kindle books is on the free bestsellers list at Amazon.
You don't need to own a Kindle ebook reader or a Fire tablet to read these free ebooks; you can use free Kindle reading apps for iPad, iPhone, and Android devices, or use a computer or web browser.
Subscribe to The eBook Reader Blog to keep updated on future free ebooks posts, along with ebook reader news, reviews and how to guides, or you can follow this site on Facebook and Twitter to get updates.
Kindle Deals
Kindle Paperwhite 5 – $104.99 ($35 off)
Kindle Paperwhite 5 Kids – $114.99 ($45 off)
Kindle Oasis 3 – $174.99 ($75 off) 8GB model
Kindle Oasis 3 – $194.99 ($85 off) 32GB model
Kindle Oasis 3 – $264.99 ($85 off) 32GB model 4G LTE
Kindle – $49.99 ($40 off) Buy 2, save $20
Kindle Paperwhite 4 – $84.99 ($75 off) 32GB model
Kids Kindle – $59.99 ($50 off)
Other Kindle Deals
Get 20-40% off Kindle Unlimited Gift subscriptions
Kindle Paperwhite 5 Leather Covers – 25% off
Kindle Paperwhite 5 Fabric Covers – 25% off
Kindle Oasis Leather Covers – 25% off
Kindle Oasis Fabric Covers – 25% off
Kindle Fabric Covers – 20% off
Kindle Printed Covers – 20% off
Kindle Unlimited Promos – Offers vary by account
Amazon First Reads – Free eBooks for Prime Members
Get 20% off New Kindle with Trade-in
10 Free Kindle eBooks
Love at Wild Harbor by Grace Worthington
Women's Sagas, 4.6 stars, 89 reviews
Lily Woods never expected to start life over again at thirty. But when she opens a chocolate shop and buys a dilapidated beach cottage in Wild Harbor, she's ready to begin a new chapter, spending her days and nights creating fabulous chocolate treats. TV star Alex Briggs isn't about to put his heart on the line. He's finally landed his dream job as the host of a wildly popular home renovation show. Now he's returning to Wild Harbor to flip a beach cottage, but he never imagined the project would land him next to the captivating girl who rejected him in high school…
Seabreeze Inn by Jan Moran
Romance, 4.4 stars, 6466 reviews
Ivy Marin's life implodes after discovering that her late husband had spent their life savings on a beach house. Strapped for cash as an art teacher and with nowhere to go, Ivy and her recently jilted sister head to Summer Beach to recreate their lives. If only renovating a historical home didn't unveil a host of hidden secrets in the beachside community—and the mayor wasn't her former high school crush. Bennett Dylan led a campaign against Ivy's late husband to block the rezoning of the beach house land for a high-rise resort…
Where The Truth Lies by M J Lee
Crime Thriller, 4.4 stars, 2998 reviews
DI Thomas Ridpath was on the up in the Manchester CID: a promising detective who captured a notorious serial killer. But ten years later he's recovering from a serious illness and on the brink of being forced out of the police. Then the murders began, in an uncanny echo of his first case. As the death count grows, old records, and bodies, go missing. Caught in a turf war between the police and the coroner's office, Ridpath is in a race against time. A race to save his career, his marriage, and innocent lives…
Rebel: Wolfes of Manhattan One by Helen Hardt
Fiction, 4.6 stars, 1287 reviews
When Rock Wolfe was fourteen, he tried to kill his father. Twenty years later, someone else finished the job. Now Rock is returning to New York for the reading of the billionaire's will. No way did Derek Wolfe leave anything to his oldest son, but according to Rock's brother, his presence is required. Estate attorney Lacey Ward isn't looking forward to the reading. None of Derek Wolfe's children will be happy, least of all his oldest. When Rock enters the conference room, Lacey is stunned. He's a rebel—a biker all muscled and gorgeous in black leather. This won't be easy, especially since she can't stop staring at him…
Witch Doggone Killer? by Paula Lester
Mystery, 4.4 stars, 215 reviews
Willow Morgan is perfectly content caring for animals and keeping her witch identity secret. But her ability to communicate with people's pets won't pay the latest hike on her clinic's lease. Planning to confront the property owner about his lofty fees during his dog's appointment, she's terrified to find him in her lobby… poisoned to death. With herself and her staff the key suspects, Willow's determined to investigate the crime and prove their innocence. But when she's unexpectedly invited to judge the town's prestigious dog show, Willow fears the event isn't as innocent as it seems…
LULU the Tiger in Outer Space by Ann Lee
Children's eBooks, 4.5 stars, 41 reviews
Join Lulu and her animal friends as they climb aboard her homemade rocket and embark on a mission to Mars. What will they find on the Red Planet? Will they meet any aliens?! See what they discover on the Red Planet in this engaging picture book. Lulu the Tiger in Outer Space is perfect for children eager to start reading on their own. They will encounter rhymes, learn about astronauts and their equipment, experience the value of friendship and resilience, and have a whole lot of fun!
Unending Havoc by Millie Copper
Science Fiction, 4.5 stars, 112 reviews
After losing her husband in a tragic fire, Tamra's brother-in-law offers shelter and security for her and her daughters—which is essential in this new world that's rapidly dissolving into chaos. But Tamra soon discovers what she thought was security was nothing more than a lie. Now all Tamra wants is to take her children and go home to her mom and dad. In the old world, home was only a quick hour and a half drive away. But now that cars and fuel are a thing of the past, nothing is quick, and it's certainly not easy…
Cocoa and Curses by Julie Nisse
Mystery, 4.5 stars, 141 reviews
All Liv Kolgrim wanted for her forty-first birthday was a nice dinner with her husband. What she got was divorce papers and the legs knocked out from under her very comfortable life. Yearning for a fresh start, Liv punches the reset button on her life and retreats to her tiny hometown to plan her next move. But her feet have barely touched Mistlevale's snowy streets when a body shows up at her family's cozy lodge. Even worse, local sheriff's deputy Gray Bauer wants Liv's cantankerous grandmother on the hook for the crime…
Lies in Bone by Natalie Symons
Suspense, 4.8 stars, 92 reviews
Told by a tart-tongued young woman with a love of Bruce Springsteen, Lies in Bone is at once a mystery and coming-of-age tale fueled by dark secrets involving love, murder, and the truths worth lying for. On Halloween 1963, eleven-year-old Chuck Coolidge and his brother Danny are lost in a toxic smog covering the steel town of Slippery Elm, Pennsylvania. When the smog lifts, half the town is sick and twenty people are dead. And Danny is missing…
The Carlswick Affair by SL Beaumont
Thrillers & Suspense, 4.4 stars, 194 reviews
When 18-year-old student Stephanie Cooper investigates the mysterious circumstances surrounding her great aunt's death, she discovers a painting thought stolen by the Nazis and destroyed during WWII, hanging in the home of the intriguing James Knox, guitarist with indie band, The Fury. Now, as Stephanie gathers proof to unmask a thief and possible killer, she discovers that someone does not want her to uncover the secrets of her family's past and that someone may kill to stop her.