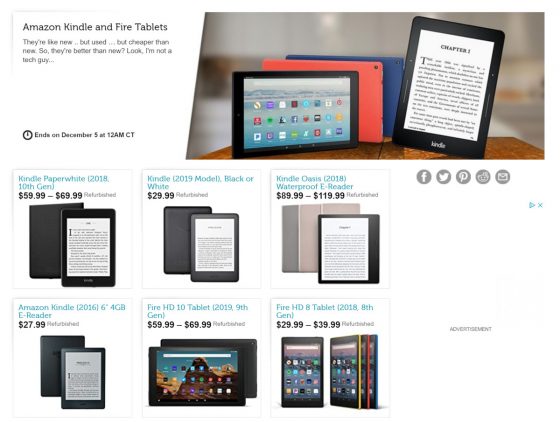 All of Amazon's Black Friday and Cyber Monday Kindle sales have officially ended, but there are still some good deals to be had on refurbished Kindles at Woot.
Today they have some new listings in their Amazon Kindle and Fire Tablets section, with deals starting at $27.99. The sales event ends on December 5th, or until they sell out.
They have the current entry-level Kindle available for only $29.99. That's a much better deal than the previous entry-level Kindle they're selling for $27.99.
The previous generation Kindle Oasis is also available for the lowest price I've ever seen—just $89.99 for the 8GB model and the 32GB version with cellular connectivity is only $119.99. They probably won't last long at that price considering the Oasis 2 is exactly the same as the current Kindle Oasis minus the warm frontlight.
The Kindle Paperwhite 4 is also available for $59.99, but the better deal by far is the 32GB version for $69 with cellular connectivity. They have a note on the page saying "AT&T 3G cellular service will be shut down in February 2022", but that doesn't apply to the Paperwhite 4 because it supports 4G.
Woot also has some deals on previous generation Fire tablets, with prices starting at $29.99. They have the Fire HD 10 for $59. See the Amazon Kindle and Fire Tablets page for the full list of deals.
Keep an eye on the tablets section at Woot for more Kindle deals. They've been having more Kindles available lately but they often sell out pretty quick so I usually don't post about them.