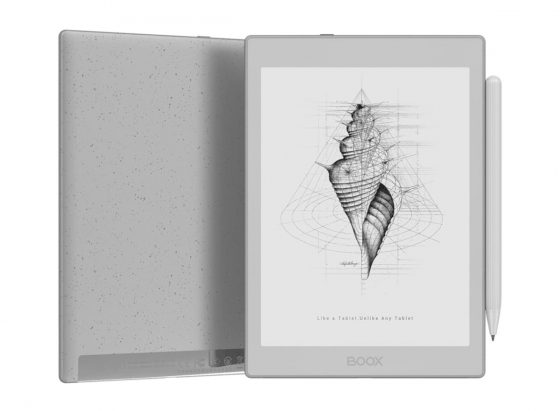 Onyx has officially started rolling out a new software update for Boox ereaders and note-taking devices.
The new 3.2 software is now available for Onyx's previous generation models, including the Max Lumi, the Note Air and Note 3, the Poke3, the Nova Air, Nova3 and Nova3 Color, and the new Leaf.
The 3.2 update brings some changes to the user interface, with a new quick settings menu, and a new settings panel. You can see some screenshots on Onyx's Boox Firmware V3.2 description page.
The update also improves compatibility with 3rd party Android apps, and it's supposed to improve latency with other note-taking apps.
You can get the new update from the Firmware Update section in Settings on your Boox device, or you can download the update from Onyx's support website and manually install it, once they update the download links.
Here's the full list of release notes, specifically for the Note models:
System and Applications
The system drop-down menu has been divided into Notification Center and Control Panel. Swiping up from the screen bottom will pop up E Ink Center.
Add BooxDrop (two-way file transfer between BOOX and other devices such as PC). BooxDrop only supports Wi-Fi in the same local area network. (This replaces Transfer Books including WifiTransfer and Push.)
Add the feature of "Automatic collapse when next to the screen edge" and "Automatic collapse when not in use for 5s" to Navigation Ball.
Add Area Screenshot, which allows users to screenshot the selected area only instead of the whole screen. (Call out from Navigation Ball.)
Add more options for system full-refresh frequencies (0–1–5–10–15–20–30. The default full refresh is 5. V3.1 was 6 by default.)
Add multiple accounts management. (This is to solve the problem of notes sync issues under multiple accounts.)
Improve handwriting speed of OneNote\Evernote\WPS.
Optimize Feedback interface.
Optimize the update process and interface.
Adjust the settings of App Optimization.
Library and NeoReader
Add custom scan path settings to the Library and optimize the process of refreshing the Library;
Adjust the data sharing method of a file's copy. The data is identified by saving path. (Old version was identified by the file ID.)
Support copying and cutting handwritten content between documents.
Expand the formats that V2 engine supports: Epub\mobi\azw3\txt\word\jeb\html;
Optimize the main menu of reading and adjust the levels of some main menus.
Add reflow feature to text-based PDF documents that allow "long press to select text" or are recognized by OCR.
Long-press-to-select-text supports to share to third-party apps in image formats. Up to 1000 characters can be shared.
The look-up on the internet after long-pressing to select text supports open via third-party browser.
TOC supports "expanding/collapsing all with one click"
PDF bookmarks filter the headers and the footers.
Fix the issue of inaccurate selection of long-press-to-select-text.
The reading status bar can display chapter names (supported by V2 engine)
The inserted text box can be switched between vertical and horizontal styles.
Split-view in NeoReader supports Article\ Comic modes.
Notes and Synchronization
Add the feature of combining multiple notepads into one.
Add automatic saving by a set time.
The exported PDFs from Notes are in vector format, which can be edited in Reader.
Add custom brushes (max 5 brushes.)
Add page tags, which generate a level 1 directory when exporting a notepad to a PDF file.
Fix the issue that the strokes on the template can not be erased cleanly.
Add the feature that allows you to insert a picture directly to a notepad by long-pressing a picture( Share > Insert to a Notepad)
Associate Notes with accounts. Notes under anonymous accounts are automatically classified into login account. The notes under the logout account will no longer appear locally and will appear again after you log in to the same account; (This is to resolve the sync issues under multiple accounts)
Local backup of version 3.2 or above supports combining new backup with existing backup files. ( This backs up notes at different stages to the same backup file).
Cloud backup is not available anymore.